Tissues Morphogenesis & Organogenesis Models
Tumor, Disease and Infection Models
Drug Testing
Toxicity Screening
Personalized Medicine
Regenerative Medicine / Organ Replacement
Organoid Growth
AMSBIO supplies a suite of products for organoid growth. Starting with ECM matrices and low-adhesion plates to provide the right microenvironment, we can also provide many of the necessary cues and growth factors (notably Wnt3a, R-spondin 1) to help your stem or progenitor cells follow the correct developmental pathway to differentiate into your organoid of choice.
Recombinant Wnt3A
Recombinant human and mouse Wnt3A are both available from AMSBIO. The combination of Wnt3A and the Wnt amplifier R-spondin1 is essential to grow organoids from normal epithelium.
See our full range of recombinant Wnt proteins and related products here.
Your Wnt3a in the TOP/FOP Flash Reporter Assay showed higher activity at the same concentration than the industry leader
Lipidure®-COAT Plates
Lipidure®-COAT plates are 96 well U, V and flat bottom low adhesion plates coated with Lipidure® CM5206. Lipidure® mimics cell membrane surface and its molecular structure is the key for highly hydrophilic nature and extremely low toxicity. Lipidure®-COAT plates can be used for generating large numbers of homogenous organoids.
| Name | Datasheet | Packsize | Order |
| --- | --- | --- | --- |
| Lipidure-CM5206 powder, 100g - now order as AMS.52000032GB100G | | 100 g | View |
| Lipidure-CM5206 powder, 10g now order as AMS.52000033GB10G | | 10 g | View |
| Lipidure-CM5206 powder, 1g - now order as AMS.52000034GB1G | | 1 g | View |
| Lipidure-Coat Low Adhesion Plate A-U96 (96 well U-bottom plate), 6 plates/box | - | 6 plates | View |
Ask us about 96-well V-bottom and flat-bottom Lipidure®-Coat plates.
The Lipidure®-coated plates provided by AMSBIO were extremely useful for generating with ease large numbers of homogeneous retinal organoids which responded to light and contained all the key retinal cell types
iMatrix Recombinant Laminin-511 E8 Fragments
iMatrix recombinant Laminin-511 E8 fragments is an innovative cell culture matrix compatible with a wide variety of cell types. It is exceptionally well-suited for pluripotent stem cells, and has frequently been cited for differentiation into organoids.
For the best results, we recommend iMatrix-511 be used together with StemFit® medium.
| Name | Datasheet | Packsize | Order |
| --- | --- | --- | --- |
| Recombinant Laminin iMatrix-411 | | 1050 ug (6 x 175 ug tubes) | View |
| Recombinant Laminin iMatrix-411 | | 350 ug (2 x 175 ug tubes) | View |
| Recombinant Laminin iMatrix-511 | | 1050 ug (6 x 175 ug tubes) | View |
| Recombinant Laminin iMatrix-511 | | 350 ug (2 x 175 ug tubes) | View |
| Recombinant Laminin iMatrix-511 silk | | 1050 ug (6 x 175 ug tubes) | View |
iMatrix-511 silk has the same product specifications as iMatrix-511, but it is more cost effective. iMatrix-511 silk is expressed by silkworm cocoons as opposed to CHO cell lines. This makes the manufacturing process and, thus, the product cheaper.
StemFit® Feeder Free Culture Medium
As organoids can be generated from embryonic or induced pluripotent stem cells (ESCs and iPSCs) maintaining stem cell culture especially under feeder free conditions during the reprogramming, expansion and differentiation phases plays an important role in obtaining the appropriate organoids.
StemFit® is a xeno free and defined medium proven to effectively maintain stem cell culture under feeder free conditions. Now available in research and clinical-grade formulations, StemFit® combines market-leading colony-forming efficiency with volume consumption that is lower than standard media, to offer the most cost-effective colony expansion compared to leading competitors.
| Name | Datasheet | Packsize | Order |
| --- | --- | --- | --- |
| StemFit® Basic02 - Stem Cell Culture Media | | Liquid A:400 ml/Liquid B:100 ml | View |
CRISPR/Cas9 Genome Editing System
The CRISPR/Cas9 genome editing system can be used to genetically engineer organoids for studies of monogenic diseases and cancer. While CRISPR/Cas9 technology has been innovated for a range of purposes, its use on organoids has basically adopted non-homologous end joining and homology-directed repair mechanisms to engineer genes of interest. Organoids are excellent tools for analysing gene functions via prospective genome engineering.
See our range of products for your CRISPR/Cas9 genome editing needs here.
Organoid Harvesting
FACSmax™ Cell Dissociation Solution
Single cells from organoids can be harvested using FACSmaxTM Cell Dissociation Solution which is ready to use, gentle and highly effective solution causing disaggregation of cells while preserving maximum cell viability at the same time.
Published Citations
Leptin and adiponectin modulate the self-renewal of normal human breast epithelial stem cells.
Esper, R. M., Dame, M., McClintock, S., Holt, P. R., Dannenberg, A. J., Wicha, M. S., & Brenner, D. E. (2015). Cancer Prevention Research, 8(12), 1174-1183.
Dietary polyunsaturated fatty acids modulates adipose Secretome and is associated with changes in mammary epithelial stem cell self-renewal.
Hill, E. M., Esper, R. M., Sen, A., Simon, B. R., Aslam, M. N., Jiang, Y., ... & Brenner, D. E. (2019). The Journal of Nutritional Biochemistry.
Organoid Storage
CELLBANKER® Freezing Media Series
CELLBANKER® is a series of easy-to-use cell cryopreservation media. CELLBANKER® enables long term storage of different cell types; maintaining consistent high cell viability regardless of their sensitivity, due to superior protection against cell stress during freeze/thaw cycles. CELLBANKER® media have been validated for cryopreservation of whole organoids, and also for archiving clones with desired genetic characteristics that can later be grown into organoids
As a cell freezing medium, CELLBANKER® does not require a gradual temperature decrease in a programmed freezer or storage in liquid nitrogen to guarantee efficient cell storage. This makes CELLBANKER® more affordable and accessible than other cell freezing media. CELLBANKER® solutions are simple to use and allow you to achieve the highest cell viability while maintaining your cells' natural functions. Read the full protocol for organoid cryopreservation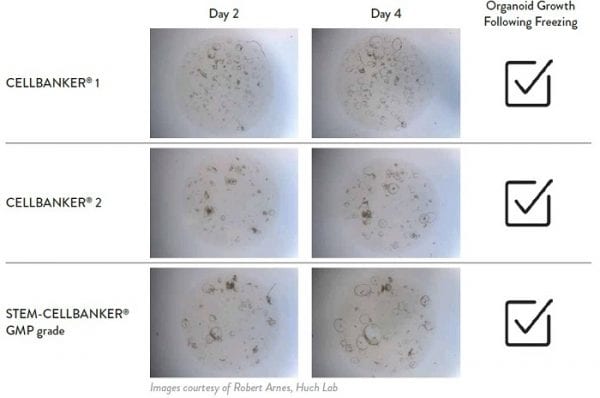 Day 2 and day 4 images clearly show that organoids recovered and grew well in these three CELLBANKER® freezing media
Published Citations:
Cryopreservation of cholangiocyte organoid (CO) pellets with CellBanker 2 (Amsbio, cat. no. 11891):
Isolation and propagation of primary human cholangiocyte organoids for the generation of bioengineered biliary tissue
Tysoe, O. C., Justin, A. W., Brevini, T., Chen, S. E., Mahbubani, K. T., Frank, A. K., ... & Vallier, L. (2019). Nature Protocols, 14(6), 1884.
The Knoblich lab in Vienna (pioneers in brain organoid culture) cited CellBanker 2 for archiving clones with desired genetic characteristics that can later be grown into organoids:
Fused cerebral organoids model interactions between brain regions.
Bagley, J. A., Reumann, D., Bian, S., Lévi-Strauss, J., & Knoblich, J. A. (2017). Nature Methods, 14, 743. 
The Takayama lab cited STEM-CELLBANKER GMP-grade for cryopreserving bronchial organoids, utilised for research into the SARS-CoV-2 virus:
Cell response analysis in SARS-CoV-2 infected bronchial organoids.
Sano, E., Suzuki, T., Hashimoto, R., Itoh, Y., Sakamoto, A., Sakai, Y., . . . Takayama, K. (2022), Communications Biology, 5(1), 516.