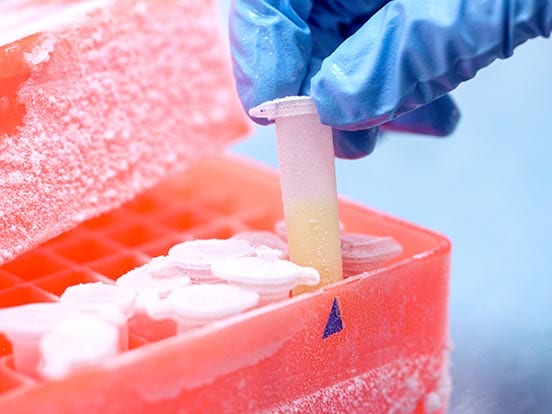 CELLBANKER® Cell Freezing Media
Cryopreservation solution for cells and tissues
The CELLBANKER® series of cell freezing media allows for the stable long-term storage of cells. With its unique formulation which enables stable cryopreservation and high viability after freeze-thaw procedures, CELLBANKER is a trusted solution for the storage of any cell type including sensitive cell lines.
Available in several formulations, this series of easy-to-use cell freezing media offers high cell viability in serum, serum-free, GMP and DMSO-free formats.
Benefits
Cited in over 500 scientific publications, CELLBANKER® is a trusted solution for the storage of any cell types.
Enables long term cell storage for >8 years at -80˚C or -196˚C
Consistent high cell viability (>90%)
Serum, serum-free and chemically defined formulations
Ready-to-use formulation with a simple protocol
Tested on many cells
No programmed freezer or liquid nitrogen required
Long shelf life (3 years from manufacturing date)
Serum containing freezing medium
The first product of the CELLBANKER® series, CELLBANKER® 1, was launched in 1992 and now has a significant history of reliable, consistent and high viability recoveries post-cryopreservation. Contains serum, DMSO, glucose, salts and buffer.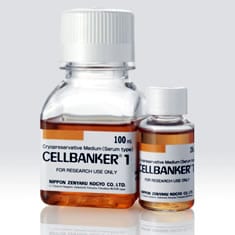 Serum free freezing medium
A serum free freezing medium that allows cell cryopreservation directly at -80°C without requiring a rate controlled freezer. Contains no animal-derived products and is guaranteed sterile.
GMP grade cryopreservation medium optimized for hematopoietic stem cells
HSC-BANKER® is an optimized GMP grade cryopreservation medium for hematopoietic stem cells. Designed with a simple formulation HSC-BANKER® also offers the potential to be used as excipient in cell therapy delivery.
Studies show that the HSC-BANKER® is at least equivalent to conventional protocols using DMSO and DEXTRAN. The results of a comparative study on the cryopreservation of hematopoietic stem cells was performed by the Cord Blood Bank of Japanese Red Cross Society: View Results
Cryopreservation Procedure
CELLBANKER® solutions are simple to use. Achieve the highest cell viability whilst maintaining stem cell pluripotency, normal karyotype and proliferation ability after cryopreservation using CELLBANKER®.
Cryopreservation of Organoids
Organoids are 3D, organ-like structures derived in vitro via self-assembly of pluripotent stem cells or adult tissue stem cells. CELLBANKER® media has been validated for cryopreservation and recovery of whole organoids, with high viability rates. Clones with desired genetic characteristics (e.g. CRISPR/Cas9 edits) frozen in CELLBANKER® media have also been successfully thawed and grown into organoids.
STEM-CELLBANKER® is GMP compliant, for regenerative medicine applications.
Click here for customer testimony from the Clevers Lab, and click here to find out more about our organoid culture and storage solutions.
CELLBANKER 1:
Modelling of primary ciliary dyskinesia using patient‐derived airway organoids.
Van der Vaart, J., Böttinger, L., Geurts, M. H., Van de Wetering, W. J., Knoops, K., Sachs, N., ... & Clevers, H. (2021). EMBO reports, 22(12), e52058. (J. van der Vaart, personal communication)
An organoid‐derived bronchioalveolar model for SARS‐CoV‐2 infection of human alveolar type II‐like cells.
Lamers, M. M., van der Vaart, J., Knoops, K., Riesebosch, S., Breugem, T. I., Mykytyn, A. Z., ... Clevers, H., & Haagmans, B. L. (2021), The EMBO journal, 40(5), e105912. (J. van der Vaart, personal communication)
Adult mouse and human organoids derived from thyroid follicular cells and modeling of Graves' hyperthyroidism.
van der Vaart, J., Bosmans, L., Sijbesma, S. F., Knoops, K., van de Wetering, W. J., Otten, H. G., ... & Clevers, H. (2021), Proceedings of the National Academy of Sciences, 118(51), e2117017118. (J. van der Vaart, personal communication)
* Organoids were frozen for long term storage using CELLBANKER 1 following protocol.
Frequently Asked Questions
Which types of cell lines can be cryopreserved with CELLBANKER®?
Almost all the cell lines can be cryopreserved by CELLBANKER®. View our list of cell types tested with CELLBANKER® and STEM-CELLBANKER® for more details.
What is the difference between CELLBANKER®1, and 2?
CELLBANKER® 1 contains serum; whereas CELLBANKER® 2 is a serum and protein- free type of medium.
What kind of serum is used? Which country does the serum origin?
New Born Calf Serum (NBS) is principally used and its origin is in Australia or New Zealand.
Why is programming freezing not needed for CELLBANKER® cryopreservation?
CELLBANKER® is formulated only for deep- freezer rapid freezing use at approximately -85℃. Freezing procedures by programming freezer or liquid nitrogen may deteriorate the cell viability. Storage of cells in a liquid nitrogen tank is recommended only after a sufficient freeze by deep freezer.
Tell me more about the components? Is dimethylsulfoxide (DMSO) included?
Unfortunately, the components of CELLBANKER® are not available to release at this time. DMSO is used as a frozen protectant in the product. However, DMSO rarely has any effects on the cryopreservation. May we remind you to wash your cells sufficiently after thawing.
Can I preserve my normal cells , lymphocytes or stem cells with CELLBANKER®?
There are some types of cell that are not suitable to be preserved with CELLBANKER®. Therefore, an initial test prior to the actual freezing is recommended.
How can I store CELLBANKER®?
Generally, CELLBANKER® is recommended to be kept at 4℃ and should be completely used as soon as possible. If storing for 3 months or longer, separate into aliquot and keep it frozen (-20℃). To prevent from deterioration of the product, frequent freeze-thaw method (more than 3 times) should be avoided.
Is CELLBANKER® a medicinal product?
CELLBANKER® is for research use only. Therefore, it is prohibited to be use in medical practice.