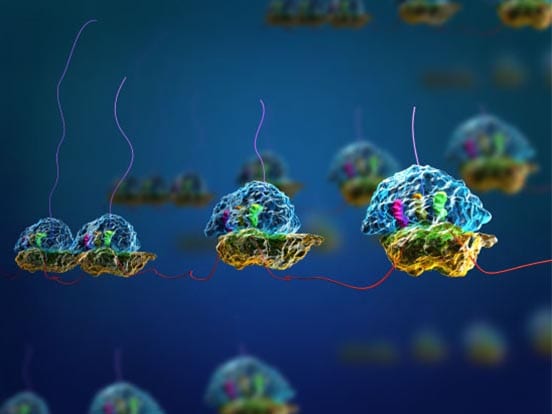 Cell-Free Protein Expression System ALiCE®
High yield cell-free protein expression system
ALiCE® is a new eukaryotic cell-free protein expression (CFPE) system, utilizing tobacco cell lysates. With energy input sustained for 48 hours, ALiCE® yields an unprecedented 3mg/ml in batch mode. This compares to a maximum 1 mg/ml of prokaryotic CFPE systems, which are only capable of producing simple proteins, and most relevantly to 0.1 mg/ml of other eukaryotic CFPE systems.
The outstanding yields of ALiCE® are obtained in a single step reaction, in 48h from the addition of DNA, with the flexibility of use with 96 half well plates or scaling up to higher volumes.
The power of ALiCE® lies in its intact organelles: active mitochondria provide a continuing energy supply and microsomes (endoplasmic reticulum reformed into vessels) enable folding of complex proteins and their glycosylation. This gives you a remarkably easy and scalable tool to express a broad spectrum of proteins.
Features
Produces up to 3 mg/mL in batch mode
30x more protein than other eukaryotic systems and 3x more protein than prokaryotic kits
Reaction driven by active mitochondria, operating for up to 48 hours
High expression of complex or difficult proteins (such as GPCRs)
Applicable across all industries and research fields
Each kit is provided with a choice of two vectors. pALiCE01 is used for expression in ALiCE® cytosolic fraction. Targeting to microsomes with pALiCE02 offers the opportunity to express protein with post-translational modifications like disulfide bonds. ALiCE® is available in 3 sizes, when comparing to your current CFPE system keep in mind that you will obtain 3x - 30x more protein in most cases.
Comparison with other CFPE Systems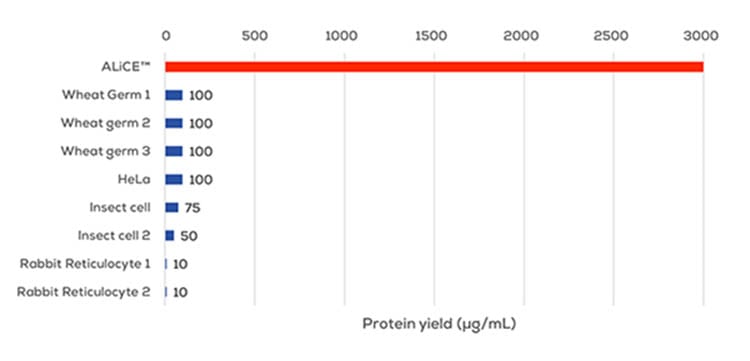 Applications
The ALiCE® cell-free protein expression system was originally developed by Dow AgroSciences in collaboration with the Fraunhofer Institute for Molecular Biology and Applied Ecology IME (licensed by LenioBio).
It has been applied for years within Corteva Agriscience, the agrobio division of DowDuPont, as well as Fraunhofer IME to express over 500 proteins of varying types. This shows that ALiCE® is applicable for any purpose, be it for biopharmaceuticals, technical enzymes, crop development, metabolic pathways, fundamental research, etc. Potential applications include, but are not limited to:
Screening
Target protein characterization
Protein optimization
Mutant screening
Protein-protein interactions
Expression analysis
Protein localization analysis
Protein structure analysis
Post-translational modification assays
Metabolomics
Herbicide screening
Biopharmaceuticals
AMSBIO offers ALiCE® under the provision that purchaser agrees to the Limited Use Label License 2018-09-09.1. Please contact us for more information.