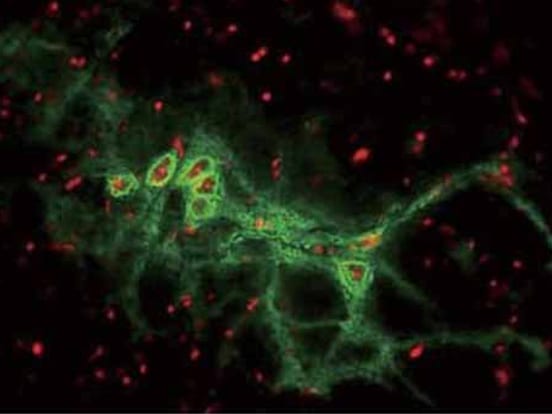 Chondroitin Sulfate Antibodies
Chondroitin Sulfate Monoclonal & Polyclonal Antibodies
Chondroitin sulfate (CS) is a sulfated glycosaminoglycan made up of repeating disaccharide units. In cartilage, CS is found as linear polysaccharide chains that are covalently attached to the core protein of proteoglycans. We offer a wide range of CS monoclonal and polyclonal antibodies that are tested for use in ELISA, Immunofluorescence, Immunohistochemistry, Radioimmunoassay, and Western Blotting assays.
What We Offer
Features
There is no cross-reaction with hyaluronic acid, dermatan sulfate, keratan sulfate or heparan sulfate.
These antibodies can be used to detect target antigen in Immunohistochemistry, ELISA, and Western blotting assays.
Chondroitin Sulfate Monoclonal Antibodies
Chondroitin sulfate polysaccharides are involved in various cellular events in the formation, regeneration, and maintenance of the neural network. A range of purified mouse monoclonal chondroitin sulfate antibodies are available to native (undigested) CS: clone: MO-225, clone: CS-56, Clone: 2H6, and clone: LY111, each uniquely recognizing a validated epitope, allowing the end-user to analyse biologically significant variations in CS structure.
Chondroitin Sulfate Polyclonal Antibodies
We also provide three polyclonal antibodies for Chondroitin sulfate proteoglycan 4 (CSPG4). These antibodies recognize CSPG4 in immunohistochemical staining and western blotting.
Can't find what you need?
Please contact us with any inquiries regarding our carbohydrate-related products