STEM-CELLBANKER® EX cryopreservation solution
Xeno free cell cryopreservation media for cell therapy
STEM-CELLBANKER® EX is a chemically defined, xeno-free, cryopreservation solution that only includes components registered as inactive ingredients that have already been approved for intravenous administration. Proven to achieve high post-thaw cell viability and cell recovery, STEM-CELLBANKER® EX offer new possibilities in cell therapy.
Over the past decade, the rapid developments in cell, tissue, and gene therapies have redefined what a therapy can be and are redefining established terms such as formulation, active-ingredient, and excipient. These therapies require a reliable and safe method of cell cryopreservation. However, the delivery of the cell therapy product by a process that includes the washing out of the cryopreservation solution can present an inconvenient added step to the administration of the product in a clinical environment. Due to its formulation, STEM-CELLBANKER® EX eliminates the need for this step.
Features
All components approved for intravenous application
GMP grade manufacture
Master File registered with the FDA - CBER
Chemically defined and animal component free
Consistent high cell viability & cell recovery
Suitable for cell, organoid, and tissue cryopreservation
Enables long term cell storage >10 years at -80˚C or -196˚C
No programmed freezer or liquid nitrogen required
Maintains cell pluripotency, normal karyotype, and proliferation ability post-thaw
Product Information Table
| Name | Datasheet | Packsize | Order |
| --- | --- | --- | --- |
| STEM-CELLBANKER EX - GMP Grade (100ml) (formerly 11890EX) | | 100 ml | View |
Cell Viability Test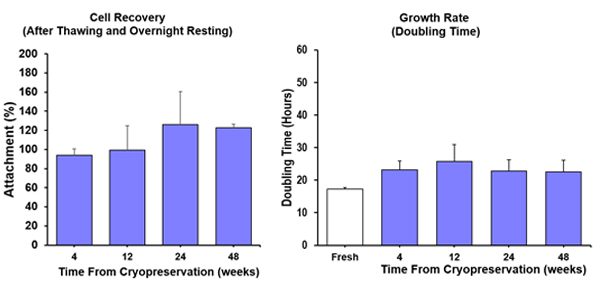 In summary (Fig 1 & Fig 2): High cell viability and maintenance of cell function of STEM-CELLBANKER® EX cryopreserved cells after thawing.
FDA Master file request
Fill out the form below to request a cross reference letter for our US FDA master file on our STEM-CELLBANKER® cryopreservation media products to be used in your clinical application.