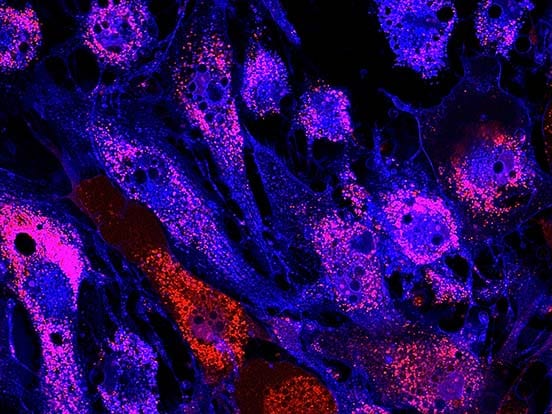 StemFit® For Mesenchymal Stem Cells
The optimal medium for expansion and maintenance of MSCs
StemFit® For Mesenchymal Stem Cells (MSC) is the latest addition to the StemFit® family of stem cell media. It is a chemically defined and animal origin free medium optimized for the expansion and maintenance of human bone marrow-derived MSC (BM-MSC), umbilical cord-derived MSC (UC-MSC), and adipose-derived stem cells (ADSC), under serum-free, human platelet lysate free conditions. StemFit® For MSC offers exceptional cell expansion with high levels of marker expression and differentiation potential. For best results, we recommend using StemFit® For MSC with iMatrix-511 as a cell culture substrate.
Features
High consistency - the chemically defined formula minimizes lot-to-lot variation and enables highly consistent cell expansion
High safety - the risk of immunogenic contamination is minimized contains no animal- or human-derived components to minimize risk of immunogenic contamination
High performance - offers superior cell expansion compared to serum-containing media
Other Products for MSC Culture
We also provide MAPTrix™ Screen Array for Mesenchymal Cell Adhesion – this lets you discover the best extracellular matrix (ECM) motifs for your cells, helping design of a fully defined ECM microenvironment for cultured MSCs. This Screen Array is part of our wider MAPTrix™ Technology defining the ECM for 2D and/or 3D cell culture.
For long-term storage of MSCs, we recommend STEM-CELLBANKER®. This cryopreservation media is chemically defined, animal component-free, and manufactured under GMP conditions. It has been tested using human MSCs (UE7T-13), achieving 90% post-thaw cell viability. STEM-CELLBANKER® is also available in a DMSO-free format.
| Name | Datasheet | Packsize | Order |
| --- | --- | --- | --- |
| Cryopreserved Human Placental derived Mesenchymal Stem Cells, 500,000 cells/vial | - | vial | View |
| Human Bone Marrow derived Mesenchymal Stem Cells, 1 million cells/vial | | vial | View |
| MAPTrix (TM) Screen for Mesenchymal cell adhesion (Mesenchymal rich integrin binding motifs), 2 plates | | 2 plates per case | View |
| STEM-CELLBANKER - GMP Grade (100ml) (formerly 11890) | | 100 ml | View |
| STEM-CELLBANKER - GMP Grade (20ml) (formerly 11897) | | 20 ml | View |
| STEM-CELLBANKER DMSO FREE - GMP Grade (100ml) (formerly 11890F) | | 100 ml | View |
| STEM-CELLBANKER DMSO FREE - GMP Grade (20ml) (formerly 11897F) | | 20 ml | View |