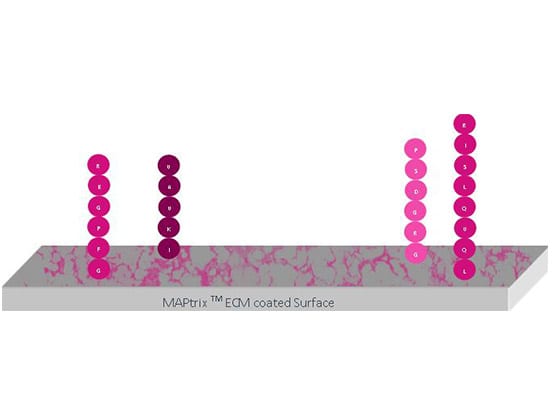 MAPTrix™ - Recombinant Animal Free Extracellular Matrix
Mussel Adhesive Protein based matrix (MAPTrixTM) recombinant extracellular matrix (ECM) acts as bio-mimetic for traditional basement membrane extracts. MAPTrixTM replaces traditional ECM with genetically incorporated bioactive peptides (recognition peptides) that provide an environment for the maintenance of cells under serum and feeder-free conditions. MAPTrixTM creates the first combinatorial synthetic ECM library for engineering integrin specific surfaces.
These surfaces mimic the native extracellular environment. Mussel adhesive protein is highly desirable for use in a variety of biological and medical applications due to its strong, wet, adhesive, non-toxic, biodegradable, and low immunogenicity properties.

Benefits
Reproducible and reliable protein coating
Mix and match motifs to create in vivo-like environment
Biochemically defined and animal-free
Coats and adheres to a wide variety of surfaces including glass, plastic and biological surfaces
Ready to use
Low cost
Promotes cell plating efficiency, improved cell morphology and enhanced cell proliferation
Applications
MAPTrixTM bio-mimetics are already used in:
Stem cell technology,
Tissue engineering scaffolds,
Drug delivery,
Cell surface modification and coating of medical devices.
MAPTrixTM ECM mimetics have biological activity comparable with its corresponding natural ECM protein and can be used in cell culture application alone or in combination with other products.
Available MAPTrixTM Bio-Mimetics
To view available bio-mimetics click here alternatively if you know the type of bio-mimetic you are looking for click on the appropriate link below.
The MAPTrixTM ECM line of products are provided with a guaranteed purity of >90% (SDS-PAGE) with endotoxin levels below 20 EU/mL (LAL assay). Each product is tested for the presence of bacteria, fungi and mycoplasma with biological activity of each product determined in a cell culture assay under serum free conditions.
MAPTrixTM products are provided as ready-to-use aqueous coating formulations in 1.0 mg, 2.5 mg, 5.0 mg and 10.0 mg sizes.
Our core product (MAPTrix recombinant mussel adhesive protein) is also available without adhesion motifs added; in 2D, Hydrogel and coacervate formats.
MAPTrixTM Screen ECM Arrays
Our MAPTrix™ ECM Library is the first commercially available combinatorial synthetic ECM library. It is comprised of hundreds of ECM derived peptide motifs which primarily bind to specific integrins. When combined with high throughput technology, our MAPTrix™ Array based cell culture systems allows one to investigate and/or optimize ECM cues and cellular signaling events which control cellular functions. The information obtained from the cell culture systems can be translated and applied to creating or engineering biomimetic or synthetic microenvironments in order to regulate cell behavior for biomedical applications.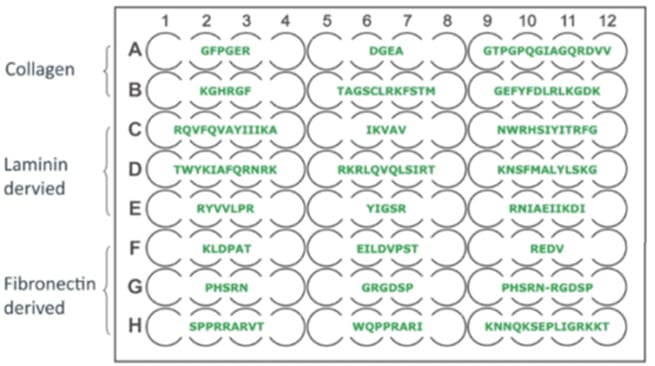 MAPTrix™ Array offers an extensive line of ECM-derived ligands for high throughput cell adhesion assays to identify a cellular adhesion profile against up to 300 cell surface receptor binding peptide motifs.
2D or 3D MAPTrixTM
MAPTrix technology is used in both the MAPTrixTM ECM coating (2D matrix) and the MAPTrixTM HyGel kits (3D matrix). The MAPTrixTM HyGel matrix can be modularly engineered for designed biochemical characteristics by use of either a single MAPTrixTM ECM motif or a combination of different motifs. To view details on these product ranges, or to compare the advantages of 3D vs 2D cultures click on the appropriate link at the left of this page.
Citations
Bahlmann, L. C., Baker, A. E., Xue, C., Liu, S., Meier‐Merziger, M., Karakas, D., ... & Shoichet, M. S. (2021). Gelatin‐Hyaluronan Click‐Crosslinked Cryogels Elucidate Human Macrophage Invasion Behavior. Advanced Functional Materials, 2008400.
Citing ANN901 MAPtrix screen array to screen for ECM motifs which enhanced THP1-macrophage adhesion.
Cha, B. H., Shin, S. R., Leijten, J., Li, Y. C., Singh, S., Liu, J. C., ... & Khademhosseini, A. (2017). Integrin‐mediated interactions control macrophage polarization in 3D hydrogels. Advanced healthcare materials, 6(21), 1700289. (For MAPTrix™-C-DGEA mimetic)
Citing [MAPtrix-C] DGEA Mimetic for physiologically relevant culture of human primary monocytes and shift towards M2 macrophage phenotype with enhanced integrin-binding and marker expression