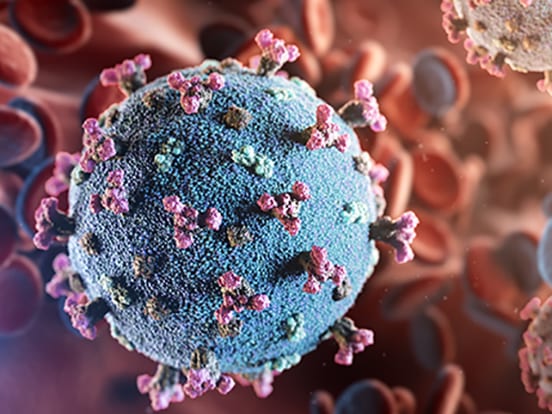 SARS-CoV-2 recombinant proteins and antibodies
High quality recombinant proteins and antibodies for COVID-19 research
AMSBIO offers an extensive range of high quality recombinant proteins and antibodies for tailored for SARS-CoV-2 and COVID-19 research. Our range of recombinant proteins and antibodies cover research for ACE2, N protein and Spike protein, including the RBD, S1 and S2 subunits.
Angiotensin Converting Enzyme (ACE2)
The ACE2 receptor is located in many major organs and is highly expressed in the lower respiratory tract, such as in type II alveolar cells of the lungs and stratified epithelial cells. It acts as an entry point for SARS-CoV-2 into cells, via an interaction with the S protein. ACE2 is therefore useful for protein-protein interaction studies.
Spike Glycoprotein (S Protein)
S protein has a key role in viral attachment, fusion, and entry. It contains two subunits: S1 and S2. Due to its function, S is an important target for vaccines, therapeutic antibodies, and diagnostics.
Spike Glycoprotein Protein S1
S1 is a subunit of the S protein which contains the receptor binding domain (RBD). It therefore plays a key role in viral entry, being suitable for applications including enzyme kinetics studies, inhibitor screening, and selectivity profiling.
Spike Glycoprotein RBD
The receptor binding domain (RBD) is located within the S1 subunit of the S protein. This domain binds strongly to ACE2 receptors and is an important target for virus attachment inhibitors, neutralizing antibodies, and vaccines.
Spike Glycoprotein S2
S2 is a subunit of the S protein that mediates the fusion of the virion and cellular membranes. This process of membrane fusion is reliant on S protein cleavage, leading to activation of the S protein.
Nucleocapsid Protein (N Protein)
N protein is the most abundant protein in SARS-CoV-2. The nucleocapsid contains the RNA genome of the virus, playing an important role in viral assembly. N can be used as a marker in diagnostic assays.
| Name | Datasheet | Packsize | Order |
| --- | --- | --- | --- |
| 14-3-3 theta Protein, His-tag (Human) | - | 20 ug | View |
| 3CL Protease (Mpro), MBP-tag (SARS-CoV-2) | - | 1 mg | View |
| 3CL Protease (Mpro), MBP-tag (SARS-CoV-2) | - | 100 ug | View |
| Bsg (BC010270) Mouse Recombinant Protein | - | 20 ug | View |
| CD147 (BSG) (NM_001728) Human Recombinant Protein | - | 20 ug | View |
| CD147 (BSG) (NM_198589) Human Recombinant Protein | - | 10 ug | View |
| CD147 (BSG) (NM_198589) Human Recombinant Protein | - | 20 ug | View |
| CD147 (BSG) (NM_198591) Human Recombinant Protein | - | 20 ug | View |
| DPP4, His-tag | - | 10 ug | View |
| FURIN (NM_002569) Human Recombinant Protein | - | 10 ug | View |
| FURIN (NM_002569) Human Recombinant Protein | - | 20 ug | View |
| Furin (108-715, His-tag) Human Protein | - | 100 ug | View |
| Furin (108-715, His-tag) Human Protein | - | 500 ug | View |
| Furin (NM_001081454) Mouse Recombinant Protein | - | 20 ug | View |
| PLP2, His-tag (Hcov-NL63) | - | 25 ug | View |
| PLPro (723-1037), His-tag (SARS-CoV-1) | - | 25 ug | View |
| PLPro, His-tag (SARS-CoV-2) | - | 1 mg | View |
| PLPro, His-tag (SARS-CoV-2) | - | 100 ug | View |
| Recombinant Coronavirus Matrix Protein (SARS-CoV; 182-216) | - | 10 ug | View |
| Recombinant Coronavirus Matrix Protein (SARS-CoV; 182-216) | | 50 ug | View |
| Recombinant Coronavirus Membrane Protein (SARS-CoV, His tag) | | 10 ug | View |
| SARS-CoV-2 (COVID-19) Envelope protein, GST,His Tag | | 1 mg | View |
| SARS-CoV-2 (COVID-19) NSP1 Protein, His Tag | - | 1 mg | View |
| SARS-CoV-2 (COVID-19) NSP1 Protein, His Tag | - | 100 ug | View |
| SARS-CoV-2 (COVID-19) NSP16&NSP10 Heterodimer Protein, His Tag&Twin Strep Tag | - | 1 mg | View |
| SARS-CoV-2 (COVID-19) NSP16&NSP10 Heterodimer Protein, His Tag&Twin Strep Tag | - | 100 ug | View |
| SARS-CoV-2 (COVID-19) NSP7 Protein, His Tag (MALS verified) | - | 1 mg | View |
| SARS-CoV-2 (COVID-19) NSP7 Protein, His Tag (MALS verified) | - | 100 ug | View |
| SARS-CoV-2 (COVID-19) NSP7&NSP8 Protein, His Tag | - | 1 mg | View |
| SARS-CoV-2 (COVID-19) NSP7&NSP8 Protein, His Tag | - | 100 ug | View |
| SARS-CoV-2 (COVID-19) NSP8 Protein, His Tag | - | 1 mg | View |
| SARS-CoV-2 (COVID-19) NSP8 Protein, His Tag | - | 100 ug | View |
| SARS-CoV-2 (COVID-19) Papain-like Protease Protein, His Tag (active enzyme) | | 1 mg | View |
| SARS-CoV-2 (COVID-19) Papain-like Protease Protein, His Tag (active enzyme) | | 100 ug | View |
| SARS-CoV-2 3C-like Proteinase Recombinant Protein with His and Avi tag | - | 100 ug | View |
| SARS-CoV-2 Envelope Recombinant Protein with His and Avi tag | | 100 ug | View |
| SARS-CoV-2 Papain-like Protease Recombinant Protein with His tag | - | 100 ug | View |
| Name | Datasheet | Packsize | Order |
| --- | --- | --- | --- |
| Anti-SARS-CoV-2 Spike RBD Neutralizing Antibody, Human IgG1 (AS35) | | 1 mg | View |
| Anti-SARS-CoV-2 Spike RBD Neutralizing Antibody, Human IgG1 (AS35) | | 100 ug | View |
| Bsg Mouse Monoclonal Antibody [Clone ID: OX-47] | - | 0.1 mg | View |
| Bsg Mouse Monoclonal Antibody [Clone ID: OX-47] | - | 100 tests | View |
| Bsg Mouse Monoclonal Antibody [Clone ID: OX-47] | - | 2 ml | View |
| CD147 (BSG) Mouse Monoclonal Antibody [Clone ID: 8D6] | - | 20 ug | View |
| CD147 (BSG) Mouse Monoclonal Antibody [Clone ID: CB43] | - | 0.1 mg | View |
| CD147 (BSG) Mouse Monoclonal Antibody [Clone ID: MEM-M6/1] | - | 0.1 mg | View |
| CD147 (BSG) Mouse Monoclonal Antibody [Clone ID: MEM-M6/1] | - | 0.2 mg | View |
| CD147 (BSG) Mouse Monoclonal Antibody [Clone ID: MEM-M6/1] | - | 1 mg | View |
| CD147 (BSG) Mouse Monoclonal Antibody [Clone ID: MEM-M6/1] | - | 100 tests | View |
| CD147 (BSG) Mouse Monoclonal Antibody [Clone ID: OTI10E10] | - | 100 ug | View |
| CD147 (BSG) Mouse Monoclonal Antibody [Clone ID: OTI10E10] | - | 100 ul | View |
| CD147 (BSG) Mouse Monoclonal Antibody [Clone ID: OTI10E10] | - | 30 ul | View |
| CD147 (BSG) Mouse Monoclonal Antibody [Clone ID: OTI3E5] | - | 100 ug | View |
| CD147 (BSG) Mouse Monoclonal Antibody [Clone ID: OTI3E5] | - | 100 ul | View |
| CD147 (BSG) Mouse Monoclonal Antibody [Clone ID: OTI3E5] | - | 30 ul | View |
| CD147 (BSG) Mouse Monoclonal Antibody [Clone ID: OTI3E9] | - | 100 ug | View |
| CD147 (BSG) Mouse Monoclonal Antibody [Clone ID: OTI3E9] | - | 100 ul | View |
| CD147 (BSG) Mouse Monoclonal Antibody [Clone ID: OTI3E9] | - | 30 ul | View |
| CD147 (BSG) Mouse Monoclonal Antibody [Clone ID: OTI3H1] | - | 100 ug | View |
| CD147 (BSG) Mouse Monoclonal Antibody [Clone ID: OTI3H1] | - | 100 ul | View |
| CD147 (BSG) Mouse Monoclonal Antibody [Clone ID: OTI3H1] | - | 30 ul | View |
| CD147 (BSG) Mouse Monoclonal Antibody [Clone ID: OTI4D3] | - | 100 ug | View |
| CD147 (BSG) Mouse Monoclonal Antibody [Clone ID: OTI4D3] | - | 100 ul | View |
| CD147 (BSG) Mouse Monoclonal Antibody [Clone ID: OTI4D3] | - | 30 ul | View |
| CD147 (BSG) Mouse Monoclonal Antibody [Clone ID: OTI4E11] | - | 100 ug | View |
| CD147 (BSG) Mouse Monoclonal Antibody [Clone ID: OTI4E11] | - | 100 ul | View |
| CD147 (BSG) Mouse Monoclonal Antibody [Clone ID: OTI4E11] | - | 30 ul | View |
| CD147 (BSG) Mouse Monoclonal Antibody [Clone ID: OTI4E4] | - | 100 ug | View |
| CD147 (BSG) Mouse Monoclonal Antibody [Clone ID: OTI4E4] | - | 100 ul | View |
| CD147 (BSG) Mouse Monoclonal Antibody [Clone ID: OTI4E4] | - | 30 ul | View |
| CD147 (BSG) Mouse Monoclonal Antibody [Clone ID: OTI5D8] | - | 100 ug | View |
| CD147 (BSG) Mouse Monoclonal Antibody [Clone ID: OTI5D8] | - | 100 ul | View |
| CD147 (BSG) Mouse Monoclonal Antibody [Clone ID: OTI5D8] | - | 30 ul | View |
| CD147 (BSG) Mouse Monoclonal Antibody [Clone ID: OTI5E1] | - | 100 ug | View |
| CD147 (BSG) Mouse Monoclonal Antibody [Clone ID: OTI5E1] | - | 100 ul | View |
| CD147 (BSG) Mouse Monoclonal Antibody [Clone ID: OTI5E1] | - | 30 ul | View |
| CD147 (BSG) Mouse Monoclonal Antibody [Clone ID: OTI7A7] | - | 100 ug | View |
| CD147 (BSG) Mouse Monoclonal Antibody [Clone ID: OTI7A7] | - | 100 ul | View |
| CD147 (BSG) Mouse Monoclonal Antibody [Clone ID: OTI7A7] | - | 30 ul | View |
| CD147 (BSG) Mouse Monoclonal Antibody [Clone ID: OTI9B10] | - | 100 ug | View |
| CD147 (BSG) Mouse Monoclonal Antibody [Clone ID: OTI9B10] | - | 100 ul | View |
| CD147 (BSG) Mouse Monoclonal Antibody [Clone ID: OTI9B10] | - | 30 ul | View |
| CD147 (BSG) Rabbit Polyclonal Antibody | - | 0.1 mg | View |
| CD147 (BSG) Rabbit Polyclonal Antibody | - | 100 ug | View |
| CD147 (BSG) Rabbit Polyclonal Antibody | - | 100 ul | View |
| E Rabbit Polyclonal Antibody | - | 0.1 mg | View |
| FURIN Goat Polyclonal Antibody | - | 0.1 mg | View |
| FURIN Rabbit Polyclonal Antibody | - | 100 ug | View |
| M Rabbit Polyclonal Antibody | - | 0.1 mg | View |
| MASP2 Mouse Monoclonal Antibody [Clone ID: OTI2F10] | - | 100 ug | View |
| MASP2 Mouse Monoclonal Antibody [Clone ID: OTI2F10] | - | 100 ul | View |
| MASP2 Mouse Monoclonal Antibody [Clone ID: OTI2F10] | - | 30 ul | View |
| MASP2 Mouse Monoclonal Antibody [Clone ID: OTI4D4] | - | 100 ug | View |
| MASP2 Mouse Monoclonal Antibody [Clone ID: OTI4D4] | - | 100 ul | View |
| MASP2 Mouse Monoclonal Antibody [Clone ID: OTI4D4] | - | 30 ul | View |
| MASP2 Mouse Monoclonal Antibody [Clone ID: OTI5C4] | - | 100 ug | View |
| MASP2 Mouse Monoclonal Antibody [Clone ID: OTI5C4] | - | 100 ul | View |
| MASP2 Mouse Monoclonal Antibody [Clone ID: OTI5C4] | - | 30 ul | View |
| MASP2 Mouse Monoclonal Antibody [Clone ID: OTI7C4] | - | 100 ug | View |
| MASP2 Mouse Monoclonal Antibody [Clone ID: OTI7C4] | - | 100 ul | View |
| MASP2 Mouse Monoclonal Antibody [Clone ID: OTI7C4] | - | 30 ul | View |
| MASP2 Mouse Monoclonal Antibody [Clone ID: OTI7D4] | - | 100 ug | View |
| MASP2 Mouse Monoclonal Antibody [Clone ID: OTI7D4] | - | 100 ul | View |
| MASP2 Mouse Monoclonal Antibody [Clone ID: OTI7D4] | - | 30 ul | View |
| MASP2 Rabbit Polyclonal Antibody | - | 100 ul | View |
| MASP2 Rabbit Polyclonal Antibody | - | 50 ug | View |
| Masp2 Rabbit Polyclonal Antibody | - | 50 ug | View |
| Mouse Monoclonal Anti-SARS-CoV-2 Antibody (Clone# 6F10) | | 50 ug | View |
| Mouse Monoclonal Anti-SARS-CoV-2 NP Antibody (Clone# 11D5) | - | 50 ug | View |
| Mouse Monoclonal Antibody [Clone ID: 4A6C9] | - | 0.1 ml | View |
| Rabbit Polyclonal Anti-SARS-CoV-2 Antibody | | 50 ug | View |
| Rabbit Polyclonal Antibody | - | 0.1 ml | View |
| SARS Envelope protein antibody Rabbit Polyclonal Antibody | - | 100 ul | View |
| SARS Matrix protein antibody Rabbit Polyclonal Antibody | - | 100 ul | View |
| SARS-CoV-2 (2019-nCoV) Nucleoprotein / NP Antibody, Rabbit MAb | | 100 ul | View |
| SARS-CoV-2 (2019-nCoV) Nucleoprotein / NP Antibody, Rabbit MAb | - | 50 ul | View |
| TMPRSS2 Goat Polyclonal Antibody | - | 100 ug | View |
| TMPRSS2 Rabbit Monoclonal Antibody | - | 100 ul | View |
| TMPRSS2 Rabbit Polyclonal Antibody | - | 0.4 ml | View |
| TMPRSS2 Rabbit Polyclonal Antibody | - | 100 ul | View |
| orf1ab Rabbit Polyclonal Antibody | - | 0.1 ml | View |
| orf1ab Rabbit Polyclonal Antibody | - | 0.5 mg | View |