MagSi-NA Pathogens Kit
Magnetic-bead based total nucleic acid extraction for pathogen detection (suited for Covid-19)
The MagSi-NA Pathogens Kit enables easy extraction of DNA and RNA from serum, plasma, oropharyngeal swab/nasopharyngeal swab, and any other respiratory samples for pathogen detection. Due to the kit's simple protocol and ready-to-use agents, it is easy to scale to small, medium, and high-throughput automation, as well as using small elution samples. The MagSi-NA Pathogens Kit utilizes magnetic beads to ensure a consistently high yield of DNA and RNA and is suitable for use with various enzymatic downstream applications, including qPCR and qRT-PCR isothermal amplification.
Additional MagSi Pathogens Kits Available
Save costs while maintaining sensitivity: 

Magnetic Sample Pooling

Automation-ready-to-use,

rQ

MagSi

-NA Pathogens

available in pre-filled plate formats
CE-IVD marked MagSi-DX pathogen kit now available, ideal for human diagnostic applications!
Features
Consistently high yield of total nucleic acids
Fast magnetic separation, even with viscous sample lysates
<30 min preparation time for 96 samples
Easy to automate
For use with a range of enzymatic down-stream applications, includin qPCR and qRT-PCR isothermal amplification
Suitable for SARS-CoV-2 purification (view all COVID-19 research tools here)
Easy to Automate
Suitable for small, medium and high-throughput automation
Minimal accessories required
Compatible with liquid handling robots (e.g. Hamilton®, TECAN®)
Protocols and consumables available for KingFisher™/Biosprint
Software files available for Kingfisher™ 96, Flex, Biosprint and MagMax systems
Magnetic separators for microtubes and microplates available
Application Data
MS2-RNA Recovery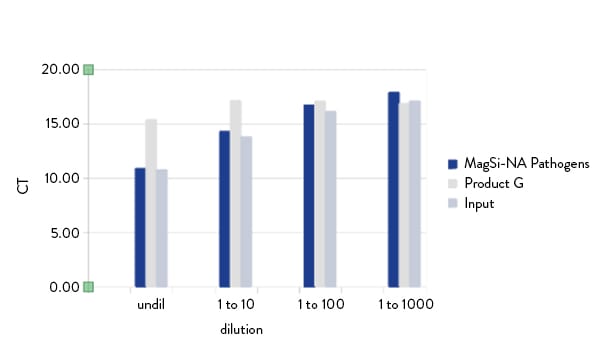 lambda DNA Recovery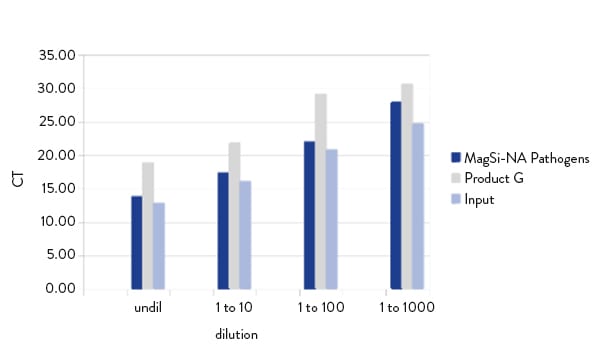 MagSi-NA Pathogens MSP (Magnetic Sample Pooling)
Save costs while maintaining sensitivity
In the current status of the Covid-19 pandemic (high levels of testing; low infection prevalence) sample screening becomes less cost-effective. A solution to overcome this issue might be pooling and adding multiple samples together in one well and analyse them as one, after which only the positive wells' samples need to be reanalysed. 
Unlike classic sample pooling methods, MagSi-NA Pathogens MSP enables the pooling of samples in a sequential and non-dilutive manner to save money on extractions and PCR reactions without compromising test sensitivity and resulting in false negatives.  
Key Features and Benefits
MSP saves up to 80% in extraction and PCR reagents costs

 

MSP does not lower the sensitivity of your tests

 

MSP is easily automated on a 

PurePrep instrument

 

Pooling ratios of up to 6:1 possible

 
Procedure
Up to 6 times 96 samples are added to the wells of up to 6 deepwell plates. First, all samples are lysed under denaturing conditions by addition of lysis buffer including proteinase K and Poly-A-RNA. Magnetic MSP beads and binding buffer are then added to every sample
During the isolation procedure the magnetic MSP beads will bind the nucleic acids from all (up to 6) samples by transferring them in a serial manner to the next sample plate, until all (up to 6) samples have been incubated with magnetic MSP beads. 
After this, the magnetic MSP beads are washed in 3 deepwell plates containing alcoholic buffers. Finally, the nucleic acids are collected from the sample plates and released into an elution plate using a low-salt elution buffer.  
They can then be directly used for downstream applications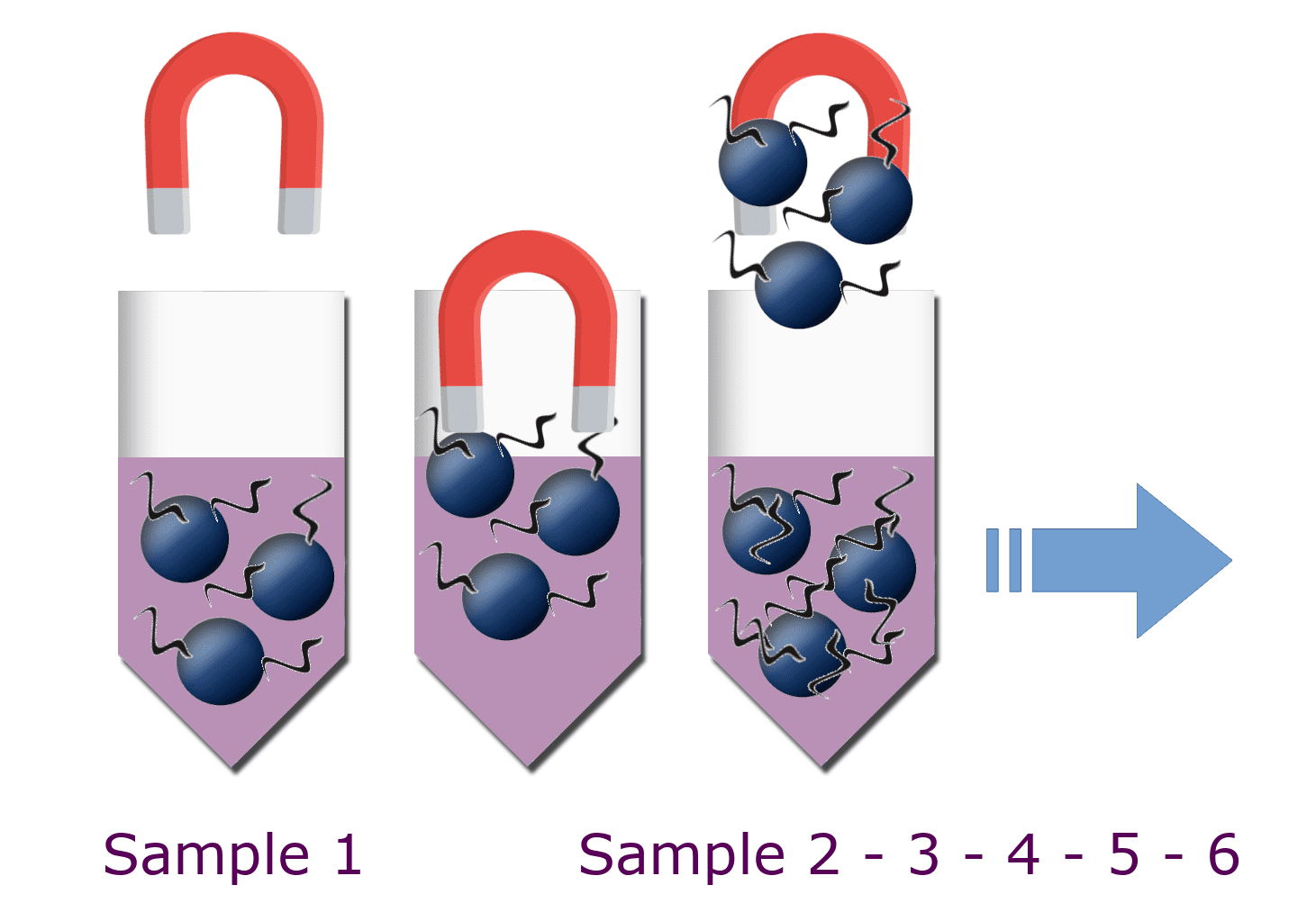 Application Data
MSP RNA-binding Efficiency
Ct Comparison With and Without MSP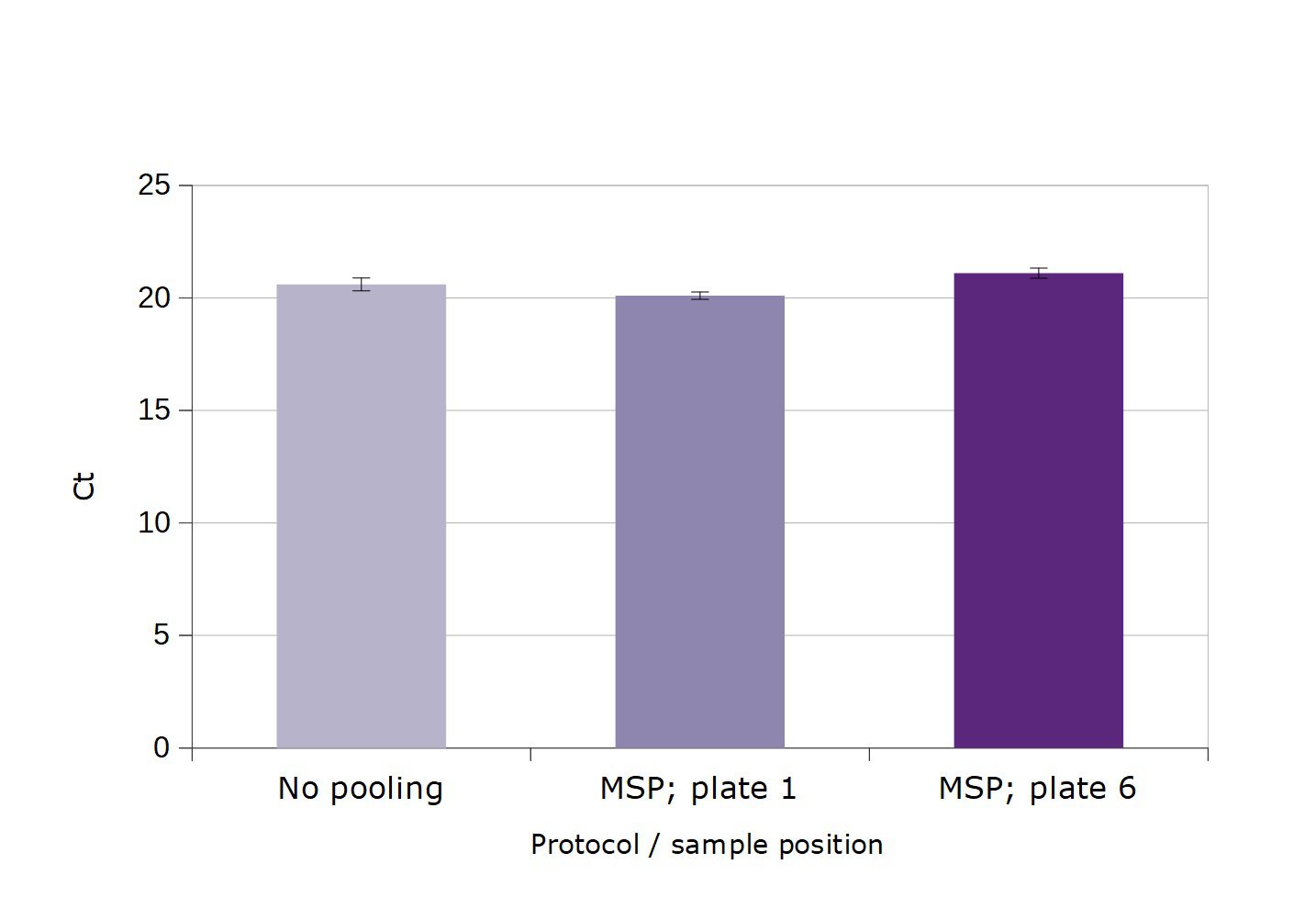 Fig.1 Four concentrations of MS2 RNA were spiked at different positions in sample plates 1, 4 and 6 and used for the extraction protocol. qPCR results generated with the eluted RNA samples demonstrate  that there is no significant difference in RNA recovery between the binding steps of MagSi-NA Pathogens MSP, and compared to the standard MagSi-NA Pathogens procedures without pooling.
Fig 2. Ct values obtained by RT-qPCR from a COVID-19 positive saliva sample after RNA extraction without pooling and with MSP. The same sample was added to the first and last sample plates to evaluate sensitivity. No difference could be determined.
rQ MagSi-NA Pathogens
Total nucleic acid extraction for pathogen detection, automation-ready
rQ MagSi-NA Pathogens is an automation-ready-to-use kit for pathogen DNA and RNA extraction from a variety of sample materials like serum, plasma, oropharyngeal/nasopharyngeal swabs, or any other respiratory samples. It is based on the proven, market-leading MagSi-NA Pathogens kit. Components are delivered pre-filled in deepwell plates to be directly used in PurePrep 96, 32, 16 or KingFisher automated, nucleic acid purification systems. 
Features
Conveniently pre-filled in plate formats

 

Minimal hands-on time; Less errors

 

More consistent and reproducible results

 

Consistently high yield of viral RNA

 

Very strong magnetic beads enable fast magnetic separation even from viscous sample lysates

 

Suitable for many enzymatic down-stream applications in particular RT-qPCR and sequencing

 

Preparation time for 96 samples is about 20 min

 
Ready-to-use on 

PurePrep 96

, 

PurePrep 32/16 

or KingFisher automated nucleic acid purification systems

 

Based on the proven, market-leading 

MagSi-NA Pathogens

 kit

 
Product Information Table
| Name | Packsize | Order |
| --- | --- | --- |
| rQ MagSi-NA Pathogens (10x96 preps) | 10 x 96 preps | View |
| rQ MagSi-NA Pathogens (1x96 preps) (Sample kit) | 1x96 preps | View |
| rQ MagSi-NA Pathogens (2x16 preps) (Sample kit) | 2x16 preps | View |
| rQ MagSi-NA Pathogens (50x96 preps) | 50x96 preps | View |
| rQ MagSi-NA Pathogens (6x16 preps) | 6x16 preps | View |