Advantages
True 3D micro-environment
Minimal protocol adaption required to switch from 2D to 3D
Compatible with industry-standard automated handling and imaging equipment
High well-to-well and batch-to-batch consistency
Scaffolds are free from animal-derived products and synthesised using medical-grade polymers.
Usage & Handling
Compatible with fluorescent and light microscopy
Supplied gamma-irradiated in individually-sealed plastic wrapping
Scaffolds can be coated with materials to facilitate cell adhesion in low serum conditions
The Mimetix® scaffold is incorporated into standard SBS footprint well plate frames with bases of superior optical clarity and minimal base distortion. The scaffold depth of 50 µm is thick enough to provide the benefits of 3D cell morphology and behaviour, yet thin enough to allow microscopic imaging.
Formats
Mimetix® scaffolds are available in two formats:
Aligned Mimetix® scaffold:
Fibres aligned roughly parallel, with a scaffold depth of 2-4 microns
Ideal for cells needing physical guidance and/or where cellular orientation influences cell behaviour and function
Applications include: Schwann cells and oligodendrocytes, myelination assays, nerve conduit repair, tendon repair, cardiomyocytes
Randomly-Orientated Mimetix® scaffold:
Mimics the extracellular matrix while providing a true 3D environment for the cells to grow
Scaffold depth of 50 microns - thick enough to provide the benefits of 3D cell morphology and behaviour, yet thin enough to allow microscopic imaging
Applications include: non weight-bearing bone regeneration; corneal repair; Neuroscience
Applications
Mimetix® scaffold have proven to be versatile and consistent environment for various research fields. Here we highlight a few experimental outcomes achieved using these electrospun scaffolds:
Cell imaging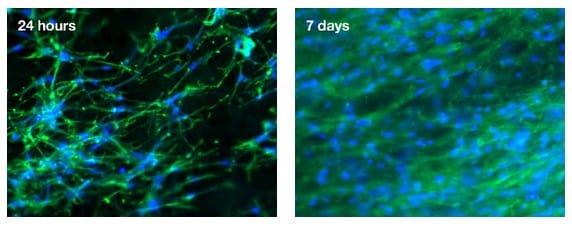 High Throughput Myelination Assay
Our aligned electrospun Mimetix scaffold allows:
Differentiation of more than 80% of oligodendrocyte precursors into mature oligodendrocytes in 14 days
Production of sheath lengths comparable to in vivo situation within 7 days by 90% of the oligodendrocytes
Physical guidance and support for Schwann cells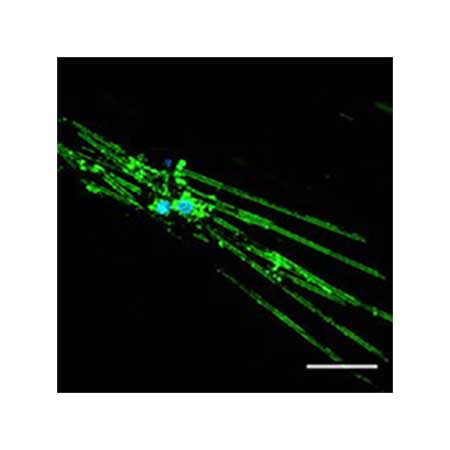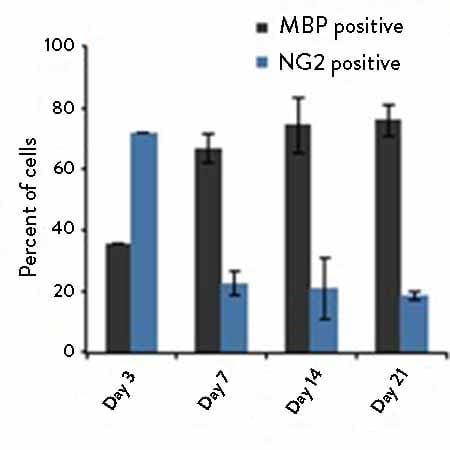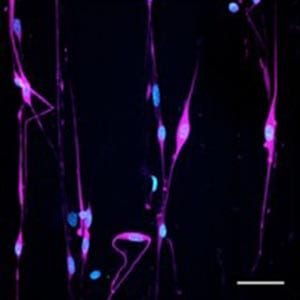 Cardiotoxicology
Bharathi Balasubramanian and Elena Trepakova (Merck & Co, New Jersey, USA) cultured human induced pluripotent stem cell-derived cardiomyocytes (hiPSC-CMs) in Mimetix aligned scaffold to structurally resemble native adult human cardiomyocytes. Calcium transients were measured, showing that the cells grown in 3D in the Mimetix aligned scaffold were more mature than those grown in 2D.
Toxicology studies
HepG2 liver cancer cells are often used as model cultures for toxicology studies in-vitro. Mimetix® scaffolds have proven to be provide a suitable environment for liver cells:
Metabolic functions are preserved in Mimetix® for up to 28 days
CYP activities are similar to those in primary hepatocytes showcasing enzymatic drug metabolism in-vitro
Phase II enzymes that are involved in solubility of drugs and hormones as well as excretable metabolites display same or increased expression in Mimetix® scaffolds compared to 2D controls
Retinal pigment epithelium
Blindness in the UK is largely the cause of age-related macular degeneration (AMD), which permanently damages or causes death to the photoreceptor cells retinal pigment epithelium (RPE) in the retina. The below study shows the success of the Mimetix® scaffold to mimic Bruch's membrane, and the attachment, proliferation and differentiation of human RPE cells which then can be transplanted in the sub-retinal space as a treatment for AMD.
3D drug discovery
Cancer cells grown in more physiologically relevant 3D cultures have shown increased drug resistance compared to traditional 2D systems. Mimetix® scaffold has been successfully used as a matrix for numerous cancer cell models in 3D drug screening: liver, breast, ovarian as well as lung cancer models.



Wound care
FDA-approved bioactive compounds (such as Copaiba oil) that have been incorporated into electrospun poly(lactic-co-glycolic acid) (PLGA), can act as drug releasing bioactive scaffolds for application in wound care.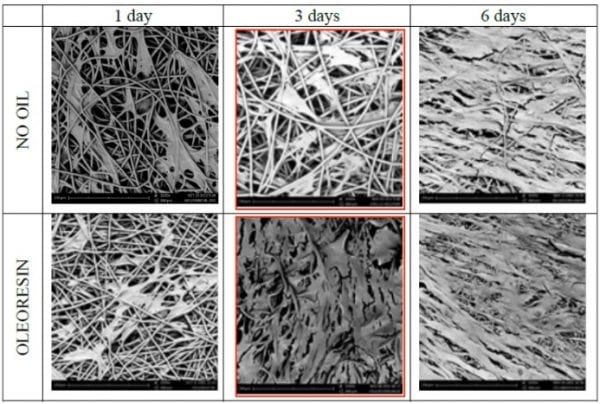 Cornea regeneration
Electrospun biodegradable synthetic membranes have been developed for affordable corneal surface regeneration techniques. These are based upon the concept of corneal epithelium regeneration on the eye using small tissue samples, this was tested in vitro using the Mimetix® electrospun membrane. Phase I clinical trails have already established that this process can be undertaken safely on patients.