Generation of Muscle Cells in 3 Easy Steps
April 24, 2020

Transfecting Human Embryonic Stem Cells
December 12, 2019
Shining a spotlight on the pioneering research using Mimetix® aligned 3D cell culture scaffold for Myelination, including scientists at Stanford University Medical School that have cited Mimetix® scaffold kits to understand the architecture of the myelin sheaths which insulate neuronal axons, so they can transmit electrical impulses quickly and efficiently.
Mimetix® scaffolds mimic an extracellular matrix by providing an ideal architectural environment to support the growth of cells in 3D. They are created by electrospinning medical-grade polymer poly(L-lactide) (PLLA) into microfibres, which are highly consistent with regard to fibre diameter and pore size, resulting in excellent reproducibility of cell-based assays. Mimetix® aligned microfiber scaffolds provide a physical structure for the 3D culture of cells from tissues such as the central nervous system, skeletal muscle and heart where orientation influences cell growth and behavior. The Mimetix® scaffold is incorporated into standard SBS footprint well plate frames (12- and 96-well) with bases of superior optical clarity and minimal base distortion. The aligned scaffolds are thin enough to allow microscopic imaging.
Our aligned electrospun Mimetix scaffolds allow:
Differentiation of more than 80% of oligodendrocyte precursors into mature oligodendrocytes in 14 days.
Production of sheath lengths comparable to in vivo situation within 7 days by 90% of the oligodendrocytes.
Physical guidance and support for Schwann cells.
Myelination by Oligodendrocytes on Mimetix Aligned Fiber 96-well Plates
The aligned Mimetix scaffold fibres from AMSBIO have been an invaluable tool, allowing us to answer fundamental questions regarding how oligodendrocytes form central nervous system (CNS) myelin sheaths. The suppliers of the Mimetix fibres worked with us to create customised three-dimensional fibres, facilitating the development of an oligodendrocyte culture assay. The culture system we developed permits the examination of myelin sheath formation in the absence of neurons. The aligned microfibres used in our research have enabled us to examine both the physical and molecular signals sufficient to drive CNS myelin sheath formation, which could not be assessed in other culture models. This has opened new opportunities to examine the role of physical cues, heterogeneity due to oligodendrocyte origin, and the sufficiency of molecules to control the number and size of myelin sheaths formed by oligodendrocytes. Our findings and future work illuminate how myelin sheaths are formed during brain and spinal cord development as well as what signals enhance myelin sheath formation. This research is of particular importance for developing future therapies for diseases of myelin loss, such as multiple sclerosis and leukodystrophies.
Marie Bechler, senior researcher in the french-Constant laboratory at the MRC Centre for Regenerative Medicine (Current Address: Assistant Professor at SUNY Upstate Medical University, Syracuse NY, USA)
Use of Rhodamine to Visualize Fibers
Our Mimetix Aligned Fibre 384-well scaffolds are available with rhodamine or without rhodamine incorporated in the fibers. Rhodamine can help with visualizing the system, as shown below: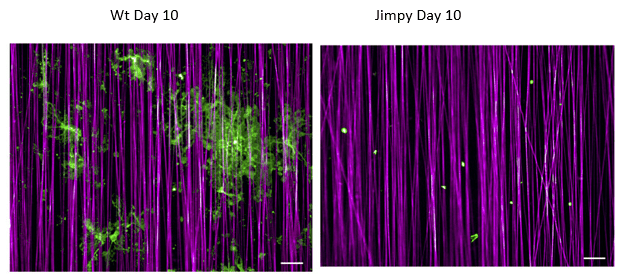 Golgi Outposts
Scientists at Stanford University Medical School have used Mimetix® aligned 3D cell culture scaffolds to understand the architecture of the myelin sheaths which insulate neuronal axons, so they can transmit electrical impulses quickly and efficiently.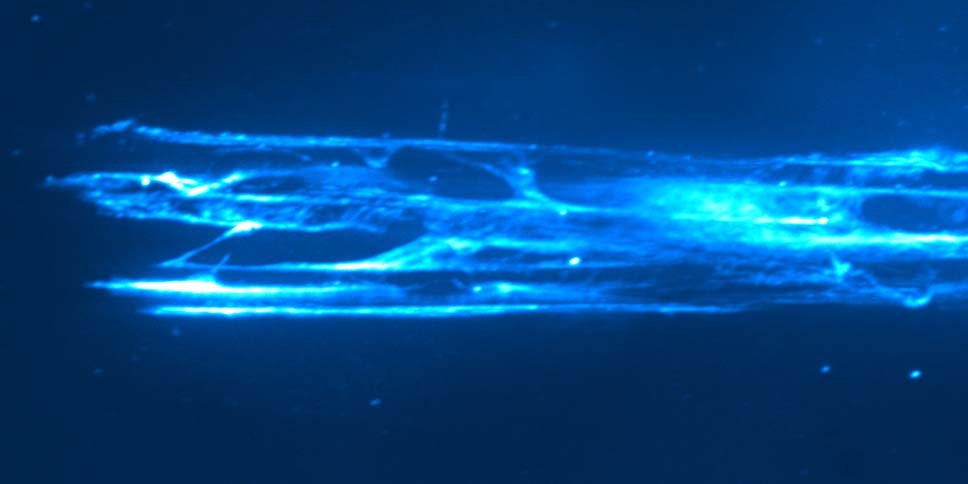 Oligodendrocyte cells in the central nervous system can contact up to 50 axon segments per cell to form such myelin sheaths. Meng-Meng Fu of Stanford University and co-authors cultured oligodendrocytes in 3D in vitro on Mimetix® aligned 3D cell culture scaffolds, showing that they form satellite organelles called "Golgi Outposts". These organize the complex architecture of microtubules to support the branching structure of myelin sheaths.
The research identifies a specific marker for Golgi outposts – TPPP (Tubulin Polymerization Promoting Protein) that was used to purify this organelle and characterize its proteome. Tppp knockout oligodendrocytes have shorter sheaths in vitro; while Tppp knockout mice have hypomyelination and motor coordination defects in vivo.
The Mimetix 3D microfibers from AMSBIO have allowed us to understand the 3D shape of oligodendrocytes. This is an invaluable tool that yielded information that we would not have been able to acquire using traditional 2D cell culture platforms. Using 3D microfibers to culture mature oligodendrocytes for up to 2 weeks, we were able to measure myelin sheath length and number of sheaths per cell. In addition, we showed in our paper that these data were consistent with in vivo measurements taken from individual oligodendrocytes in the cortex.
Meng-Meng Fu, Stanford University Medical School
Featured Citations
Recent Publications for Myelination on Mimetix® Scaffolds
**AMSBIO is the global source for Mimetix®. Mimetix® is a registered trade mark of and manufactured by The Electrospinning Company Ltd.
Need Help Finding a Product?
Our reagent specialists are to help you find the best product for your application. Please Call or Email us and we will be happy to help you find the right product for the job.
Subscribe to our newsletter
Be the first to hear about upcoming events, product news, special offers, application notes, and more

We use Cookies on this Website to enhance the user experience and provide the best possible Service. By continuing to browse this Website, you consent to our use of Cookies Learn more.
Accept