Cellufine™ MAX Phenyl/Phenyl LS
Hydrophobic interaction chromatography media
Cellufine™ MAX Phenyl is an extremely useful media for the chromatography of hydrophobic proteins. Many proteins have hydrophobic acid residues which will interact with the phenyl functional groups on the surface of the cellulose beads, allowing for the efficient purification of proteins while maintaining biological activity.
Features
This hydrophobic interaction chromatography media is available in two types which differ in functional ligand density:
Cellufine™ MAX Phenyl : standard
Cellufine™ MAX Phenyl LS: low ligand density
Characteristics
Type
Cellufine MAX Phenyl
Cellufine MAX Phenyl LS
Matrix
Highly cross-linked cellulose
Particle Size (µm)
ca. 40 - 130
Ligand Type
Phenyl
BSA adsorption capacity (mg/ml)
14
6
Polyclonal IgG 10% DBC (mg/ml)
31
19
Operating pressure (MPa)
<0.3
pH stability
2-13
Storage
20% ethanol
Cellufine resin was developed by JNC and is available from AMSBIO in EU and the US.
Model Protein Separation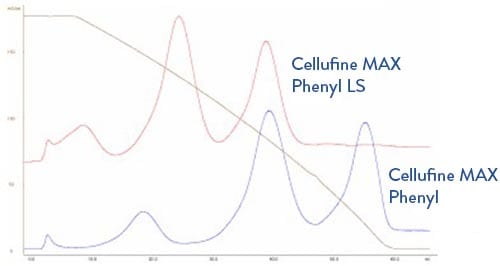 Adsorption Capacity of Model Proteins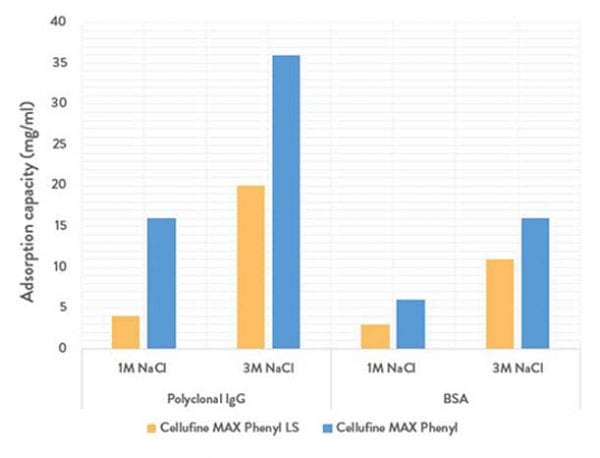 Dynamic Binding Capacity vs. Salt Concentration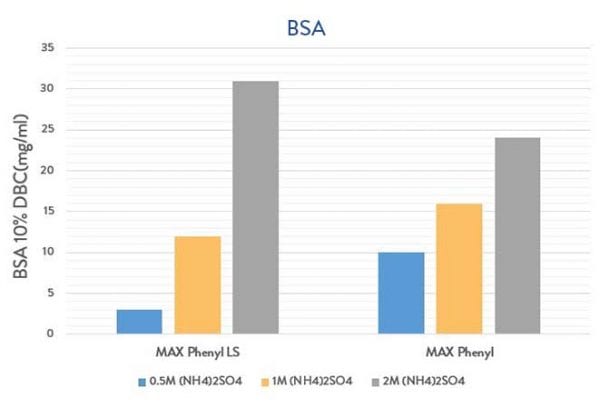 Customization (Control of Ligand Density)
Custom Cellufine™ MAX Phenyl is available on request- please contact us for more information.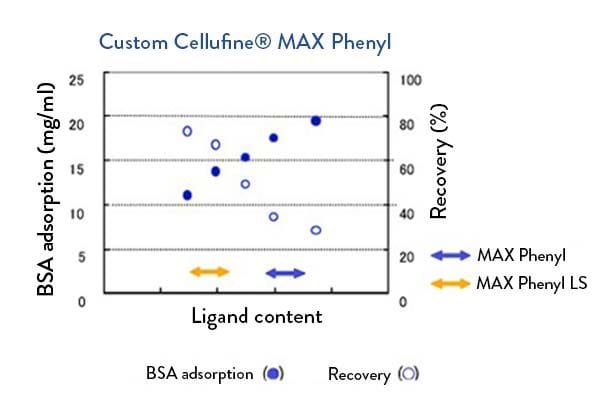 Pressure-Flow Properties
Cellufine™ MAX Phenyl media enables high-flow operation, which is essential for the efficient purification of bio-pharmaceuticals. All Cellufine™ MAX HIC media are operable at practical flow velocities and pressures.