Interested in our services or products?
We are happy to help! Contact us about your project today.
Features
Cellufine™ MAX IEX media are offered in six products (S-r, S-h, Q-r, Q-h, CM, & DEAE), including both anion and cation chemistries. Each offers excellent flow properties, mechanical stability and chemical resistance. These ion exchangers are ideally suited for both laboratory and process scale chromatography of proteins, peptides and other biomolecules. Applications include the purification of antibodies, growth factors, albumin, enzymes, and nucleic acids.
Largest pore size of all Cellufine™ chromatography media- provides superior strength and excellent mass transfer
Based on 90µm (average) highly cross-linked cellulose beads, surface-modified with dextran
All operable at practical flow velocities (500cm/h) and pressures
Stable over a range of residence times
Stable to chemicals, caustic and acidic solutions
Properties of Cellufine™ MAX IEX Media
MAX-CM
MAX S-r
MAX S-h
MAX DEAE
MAX Q-r
MAX Q-h
Matrix
Cross-linked cellulose with dextran scaffold
Particle Size (µm)
40-130
Ligand
CM
S
S
DEAE
Q
Q
Ion Exchange Capacity (mEq/ml)
0.09-0.22
0.12-0.24
0.13-0.25
0.14-0.25
0.13-0.20
0.17-0.24
10%DBC (mg/ml)
Lysozyme
220
144
191
-
-
-
BSA
-
-
-
197
141
225
Human-γ-globulin
104
131
216
108
74
135
pH Stability
2-13
2-13
3-14
2-12
2-12
2-12
Storage
20% Ethanol
Cellufine resin was developed by JNC and is available from AMSBIO in EU and the US.
Structure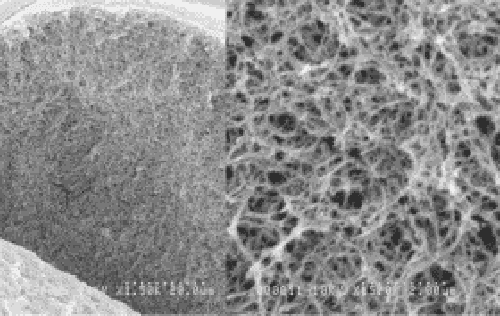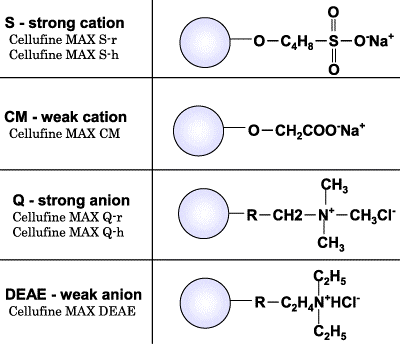 Subtypes of MAX S and Q
Two subtypes, h and r, are available for Cellufine™ MAX S and Q. The differences between the subtypes is due to the design of the media, with subtype h designed for higher binding capacity than subtype r, by optimizing the ligand content and dextran scaffold.
Subtype h: highest absorption capacity
Subtype r: high recovery, high resolution and robustness
Pressure-flow Properties
Cellufine™ MAX IEX media enable high-flow operation, which is essential for the efficient purification of biopharmaceuticals. The figures below show pressure-flow velocity curves of Cellufine™ MAX IEX media in a 30 cm column with a 20 cm bed height.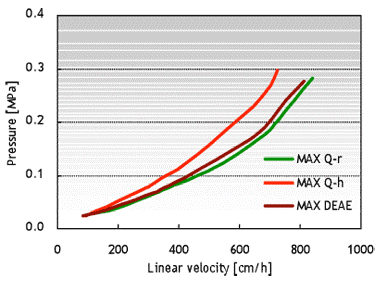 Fig. 3 Pressure-flow velocity curves for Cellufine™ MAX IEX media. Column: 30 cm I.D. x 20 cm L. Mobile phase: Pure Water at 24°C
Dynamic Binding Capacities
Efficient mass-transfer characteristics of Cellufine™ MAX IEX media translate to superior dynamic binding capacities (DBC). Figures 4-6 show DBC of model proteins at different residence times for Cellufine™ MAX IEX media. All Cellufine™ MAX IEX media are stable over a range of residence times.
Fig. 7 shows that Cellufine™ MAX S exhibits superior dynamic binding performance across a range of protein characteristics compared to competitive media.
These unique characteristics of Cellufine™ MAX IEX media make it suitable for use in upstream as well as downstream steps in biopharmaceuticals purification.
Cellufine™ MAX Weak Ion Exchange Media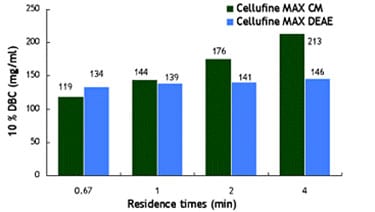 Cellufine™ MAX Anion Exchange Media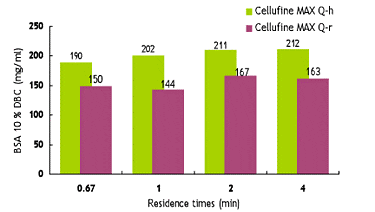 Cellufine™ MAX Cation Exchange Media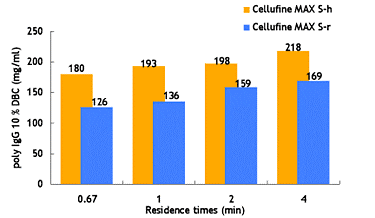 Model Protein Separation
Cellufine™ MAX IEX media are optimized for high adsorption and high resolution. Model protein separation with MAX S-h and MAX CM (strong cation vs. weak cation) and MAX Q-h and MAX DEAE (strong anion vs. weak anion) are shown below.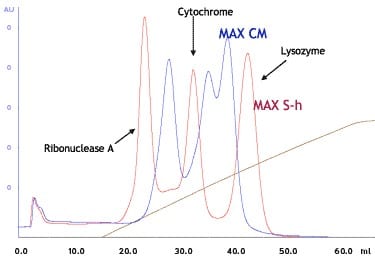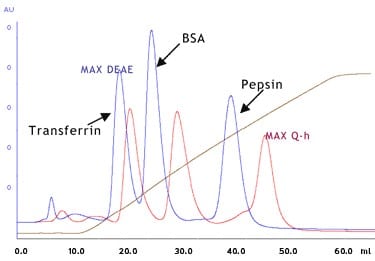 Cellufine™ is the trademark of JNC Corporation, Tokyo, Japan