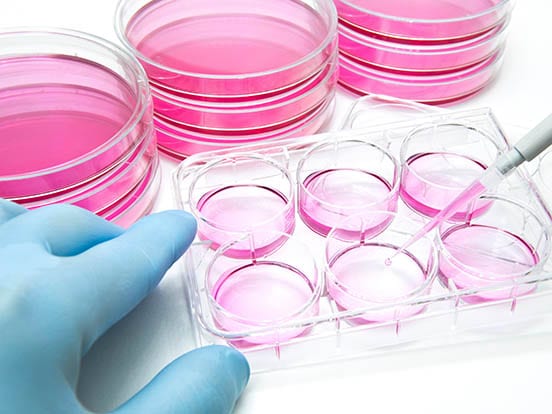 Animal & Endotoxin-Free Growth Factors & Cytokines
Increase the reproducibility of your stem cell research
The success of stem cell research depends on the development of optimal cell culture systems. Both expansion and differentiation of stem cells are heavily reliant on growth factor and cytokine supplements, with the activity and purity of these recombinants being critical to successful research and clinical applications. Despite recognized limitations, E. coli and mammalian cells remain the dominant expression systems for commercial recombinant protein production. Although significant improvements in manufacture have been made, both systems present a risk of unwanted contamination from pathogens and endotoxins.
AMSBIO now offers recombinant growth factors and cytokines produced in a plant-based expression system that utilizes barley seed to cut the risks associated with endotoxin, viral infection and other human pathogen infection.
Features
Animal free stem cell growth factors and cytokines
Endotoxin free recombinant proteins
Bacteria, animal, and human cell free
Produced in barley plants grown in a high-tech greenhouse with a negative CO2 footprint
Benefits
No contamination from serums, antibiotics, infectious agents
No unwanted growth factors and cytokine carryover
FDA G.R.A.S. status (Generally Recognized As Safe)
Eliminates harmful cellular responses due to LPS contamination
Why use endotoxin-free growth factors?
Endotoxin-free growth factors increase precision and reproducibility of stem cell cultures
Increased reproducibility leads to more consistency in stem cell experiments
Increased reproducibility leads to smoother transfer of an already established stem cell culture protocol from pre-clinical research to clinical trials
Endotoxins are an unavoidable by-product in E.coli recombinant protein production and, due to their stability and affinity to proteins, difficult to remove completely. Currently endotoxin levels in recombinant protein products below 1 EU/mg (<0.1 ng/mg) are accepted as a safe limit, however there has long been evidence to suggest the level of endotoxin that will not result in an adverse response varies between cell types, with unwanted effects observed below this accepted limit.
In an embryoid bodies-based in vitro stem cell study, endotoxin exposure, as low as 0.005 ng/ml, was demonstrated to seriously effect stem cell differentiation by inhibiting mesoderm formation. This concentration correlates to adding growth factors with 0.1 ng/µg (~1 EU/µg) bacterial endotoxins to a stem cell culture.
| Name | Datasheet | Packsize | Order |
| --- | --- | --- | --- |
| Recombinant human EGF - Animal Free | | 100 ug | View |
| Recombinant human Flt-3 ligand - Animal Free | | 100 ug | View |
| Recombinant human Flt-3 ligand - Animal Free | | 50 ug | View |
| Recombinant human Interleukin-2 (IL-2) - Animal Free | | 100 ug | View |
| Recombinant human Interleukin-2 (IL-2) - Animal Free | | 50 ug | View |
| Recombinant human Interleukin-3 (IL-3) - Animal Free | | 100 ug | View |
| Recombinant human Interleukin-3 (IL-3) - Animal Free | | 50 ug | View |
| Recombinant human Interleukin-4 (IL-4) - Animal Free | | 100 ug | View |
| Recombinant human Interleukin-4 (IL-4) - Animal Free | | 50 ug | View |
| Recombinant human glial cell line derived neurotrophic factor (GDNF) - Animal Free | | 100 ug | View |
| Recombinant human glial cell line derived neurotrophic factor (GDNF) - Animal Free | | 50 ug | View |
| Recombinant human granulocyte colony-stimulating factor (G-CSF) - Animal Free | | 100 ug | View |
| Recombinant human granulocyte colony-stimulating factor (G-CSF) - Animal Free | | 50 ug | View |
| Recombinant human granulocyte macrophage colony-stimulating factor (GM-CSF) - Animal Free | | 100 ug | View |
| Recombinant human granulocyte macrophage colony-stimulating factor (GM-CSF) - Animal Free | | 50 ug | View |
| Recombinant human keratinocyte growth factor (KGF) - Animal Free | | 100 ug | View |
| Recombinant human keratinocyte growth factor (KGF) - Animal Free | | 50 ug | View |
| Recombinant human leukemia inhibitory factor (hLIF) - Animal Free | | 100 ug | View |
| Recombinant human leukemia inhibitory factor (hLIF) - Animal Free | | 50 ug | View |
| Recombinant human macrophage colony stimulating factor (M-CSF) - Animal Free | | 100 ug | View |
| Recombinant human macrophage colony stimulating factor (M-CSF) - Animal Free | | 50 ug | View |
| Recombinant human stem cell factor (SCF) - Animal Free | | 100 ug | View |
| Recombinant human stem cell factor (SCF) - Animal Free | | 50 ug | View |
| Recombinant human tumour necrosis factor, alpha (TNF-alpha) - Animal Free | | 100 ug | View |
| Recombinant human tumour necrosis factor, alpha (TNF-alpha) - Animal Free | | 50 ug | View |
| Recombinant human vascular endothelial growth factor 165 (VEGF) - Animal Free | | 100 ug | View |
| Recombinant human vascular endothelial growth factor 165 (VEGF) - Animal Free | | 50 ug | View |
| Recombinant mouse leukemia inhibitory factor mLIF / LIF - Animal Free | | 100 ug | View |
| Recombinant mouse leukemia inhibitory factor mLIF / LIF - Animal Free | | 50 ug | View |