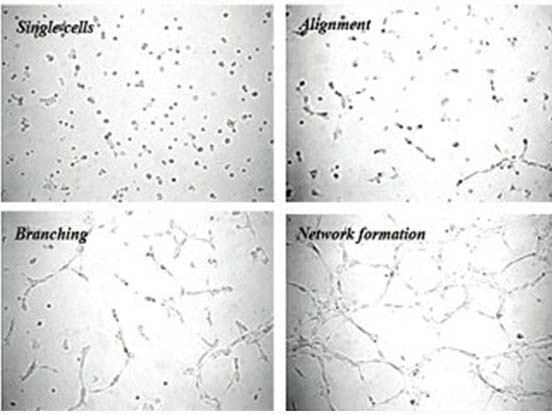 Angiogenesis Tools and Reagents
Everything you need for your angiogenesis research
Angiogenesis, the formation of new blood vessels through the extension of existing vasculature, is essential in normal physiological processes such as inflammation and wound healing. Normally tightly regulated through activator and inhibitor molecules, the dysregulation of blood vessel formation has been implicated in numerous diseases, most notably cancer.  Angiogenesis is necessary for tumor growth and the metastasis of cancer cells, as tumor vascularization supplies the cancerous cells with vital oxygen and nutrients to survive. There is an ongoing interest in the development of antiangiogenic therapies for the treatment of cancer.
AMSBIO offers endothelial cells from different tissue origins to complement your research. In addition, high quality individual angiogenesis-specific antibodies and an angiogenesis antibody microarray are available.
Endothelial Progenitor Cells
Human endothelial progenitor cells (EPCs) are vital tools used in angiogenesis research. Essential for blood vessel growth and repair in both embryos and in malignant adult tissues, further understanding of the role of EPCs in angiogenesis is a crucial aspect of drug discovery for many disorders.
AMSBIO supplies a wide range of human EPCs isolated from samples using a proprietary technology and provided in cryopreserved or live flasks. Human endothelial cells are available from human aorta, umbilical vein, coronary and pulmonary arteries and dermal microvascular tissue. Donors have been screened and detailed donor profiles are available upon request.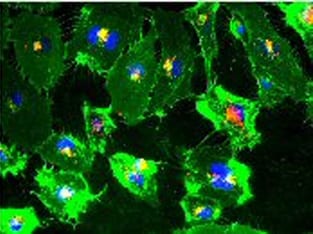 Media and Supporting Culture Reagents
Endothelial progenitor and endothelial cell growth media are designed and tested to promote attachment, spreading and proliferation of human endothelium progenitor and endothelial cells. These media are available fully supplemented with fetal bovine serum and growth factors or serum-free defined medium is also available, with or without growth factors, to fully support angiogenesis assays. Each lot of medium is performance tested.
Angiogenesis Antibodies
Angiogenesis antibody markers are available, including von Willebrand factor and CD31 antibodies to detect mature vessels and endothelial tubes, and many more.
Angiogenesis Specific Antibody Microarrays
Each angiogenesis Antibody Array includes 127 highly specific and well-characterized antibodies in the angiogenesis pathway; each has six replicates. The arrays are printed on standard-size coated glass microscope slides and can be scanned on all microarray scanners that are compatible with 76 x 25 x 1 mm (3 in. x 1 in. x 1mm).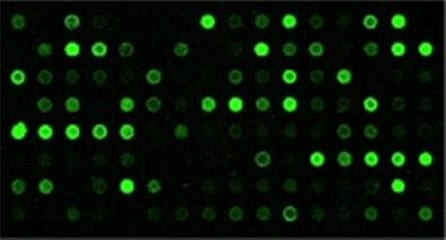 | Name | Datasheet | Packsize | Order |
| --- | --- | --- | --- |
| Endothelial Cell Basal Medium | | 500 ml | View |
| Endothelial Cell Growth Medium | | 500 ml | View |
| Endothelial Cell Serum-Free Defined Medium | | 500 ml | View |
| Endothelial Cell Serum-Free, Growth Factor-Free Medium | | 500 ml | View |
| PrimaPure Aortic Endothelial Cells (HAOEC), Adult, Cryopreserved | - | >500,000 cells | View |
| PrimaPure Coronary Artery Endothelial Cells (HCAEC), Adult, Cryopreserved | | >500,000 cells | View |
| PrimaPure Dermal Microvascular Endothelial Cells (HMVEC), Adult, Cryopreserved | - | >500,000 cells | View |
| PrimaPure Dermal Microvascular Endothelial Cells (HMVEC), Neonatal, Cryopreserved | - | >500,000 cells | View |
| PrimaPure HAOEC (Adult) Complete System | | 1 kit | View |
| PrimaPure HCAEC (Adult) Complete System | | 1 kit | View |
| PrimaPure HMVEC (Adult) Complete System | | 1 kit | View |
| PrimaPure HMVEC (Neonatal) Complete System | | 1 kit | View |
| PrimaPure HPAEC (Adult) Complete System | | 1 kit | View |
| PrimaPure HUVEC (Neonatal) Complete System | | 1 kit | View |
| PrimaPure Pulmonary Artery Endothelial Cells (HPAEC), Adult, Cryopreserved | - | >500,000 cells | View |
| PrimaPure Umbilical Vein Endothelial Cells (HUVEC), Neonatal, Cryopreserved | | >500,000 cells | View |
| PrimaPure Umbilical Vein Endothelial Cells (HUVEC), Neonatal, Pooled, Cryopreserved | - | >500,000 cells | View |
Select products also available as complete kits containing cryopreserved cells and media. Contact us for more information