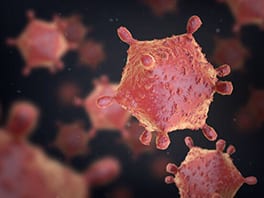 Adenoviral Particles
Efficient transduction of mammalian cells
Adenoviruses are double-stranded DNA viruses that can infect a broad range of cell types including dividing and non-dividing cells and are, therefore, widely used vehicles for gene delivery. Our adenoviral expression vector is derived from human adenovirus type5 with the E1 and E3 genomic region deleted. Since E1 is essential for the assembly of the virus particles, our adenovirus system produces only replication-incompetent adenovirus.
Features
Ready to use - simply add the virus to your cell line for target expression
Safe to use - our adenovirus is produced from a vector with E1 and E3 deletions, resulting in replication-incompetent virus
Efficient delivery - achieve close to 100% expression in actively dividing and non-dividing mammalian cells in culture or in vivo
Benefits
Effective in both in vitro and in vivo applications
Can transduce a wide variety of mammalian cells
Low risk of host genome disruption
High viral titer and high transgene expression
Adenovirus ORFs
We offer over 17,000 sequence-verified human ORFs packaged in adenovirus. If you cannot find the ORF you are looking for, we can clone it and package it into adenovirus with our Adenovirus Custom Service.
Adenovirus miRNA Clones
We provide over 1,500 sequence-verified human miRNA precursor clones packaged in adenovirus for efficient delivery into a broad range of both dividing and non-dividing cells.
Adenovirus Controls
We supply a collection of ready-to-use adenovirus controls, suitable for being tranduction controls in a large range of cell lines and types. Each expression adenovirus contains a target expressed under an enhanced human cytomegalovirus (suCMV) promoter. Where applicable, a fluorescent marker (GFP or RFP) is bicistronically expressed under the same promoter, mediated by a 2A element which allows expressing two individual targets.
The adenovirus' titers (Ifu/ml) are calculated from the positive cell counts of the fluorescent/other marker following transduction into HeLa cells. The represented titers are close to the real infectious units, the PFU titers.
We provide adenovirus  in two formats:
200 ul in DMEM medium with 10 % FBS (1×109 ifu/ml);
50 ul for in vivo application in PBS solution with 5% sucrose (1×1011 ifu/ml)
Name
Packsize
Order
We couldn't find any records.
Stem Cell Factors
We provide a series of adenovirus expressing stem cell factors (OCT3/4, SOX2, LIN28) under a CMV promoter, provided either in culture medium (with 10% FBS) or in PBS (with 5% sucrose) for in vivo applications.
Name
Packsize
Order
We couldn't find any records.