Sterilization Systems
Simple elimination of viruses and other pathogens
We provide a trio of sterilization systems suitable for a range of applications from sterilizing small laboratory instruments to sterilizing large research facilities. Our sterilizers use a mixture of ozone and UV to kill pathogenic organisms, including viruses, bacteria, and fungi. Ozone is the most powerful oxidative agent that occurs naturally. It is able to destroy germs, viruses, and microbes that may cause surface or air contamination Both Ozilla™ and FirstResponder® utilize ozone scrubbing technology to convert ozone gas back to oxygen, giving you maximum protection against pathogens with minimum effort and zero risk.
CoolCLAVE™ Plus Ozone and UV Sterilizer
The CoolCLAVE™ Plus Sterilizer combines the dual sanitizing effect of UV light and ozone to sterilize a range of small laboratory tools and equipment in 30 minutes. It is simple and safe to use as no liquids or harsh chemicals are used and no chemical residues are left behind. The CoolCLAVE Plus™ Sterilizer also has a heating function, making it especially useful for keeping laboratory tools involved in sensitive experiments and assays sterile.
Features
Lab bench top sterilizer combining UV and ozone cycles
Eliminates more than 98% of pathogens in 30 minutes
Sterilizes pipettes, pipette tips, gloves, plates, small instruments, and small personal items
No damage to surfaces or any chemical residues left behind
20-25 times more powerful than the original CoolCLAVE™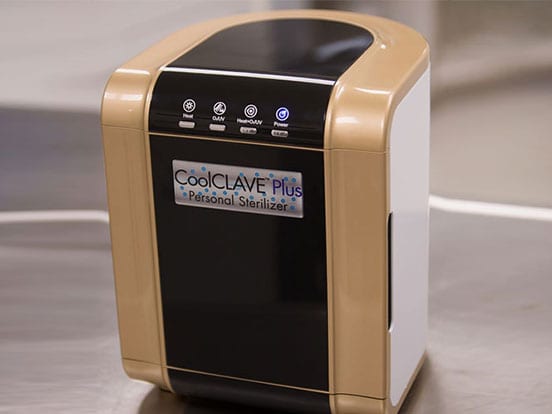 Ozilla™ Ozone Laboratory Sterilizer
The Ozilla™ Ozone Sterilizer is a high quality, compact and purpose-built ozone gas generator that is able to eliminate airborne and surface contaminants. Its scrubbing technology enables removal of ozone gas at the end of each sterilization cycle, by converting it back to oxygen. It is an excellent alternative to autoclave stem sterilization as it does not expose the items being sterilized to harsh conditions. The Ozilla™ Ozone Sterilizer is suitable for use in most standard laboratory cabinets, including cell culture incubators, cell culture hoods, air incubators and any other cabinets or rooms where a sterile environment is critical.
Features
High quality, compact ozone gas generator
Excellent alternative to autoclave steam sterilization units
Fits in most standard laboratory cabinets
Scrub cycle converts ozone back to oxygen
Leaves rooms and cabinets odor-free and clean, ready for the next usage
FirstResponder® Emergency Medical Sterilizer
The FirstResponder® Sterilizer utilizes ozone gas to kill 99.999% of 650 different kinds of pathogenic organisms in as little as 60 minutes. The unit eliminates surface and airborne bacteria, mold, fungi, spores, and viruses, as well as getting rid of odors. FirstResponder® also contains a scrub filter to speedily convert ozone gas back to oxygen, meaning it is safe and efficient to use as no chemical residues are left behind. With this portable system you can rapidly and safely sterilize research facilities, hospitals, ambulances, and more.
Features
Portable, safe, and efficient ozone-based sterilizer
Kills 99.999% of 650 different kinds of pathogens in 60 minutes
Scrubbing filter converts ozone back into oxygen in around 3 minutes
Penetrates cavities and crevices previously unreachable
Sterilizes research facilities, hospitals, ambulances and more