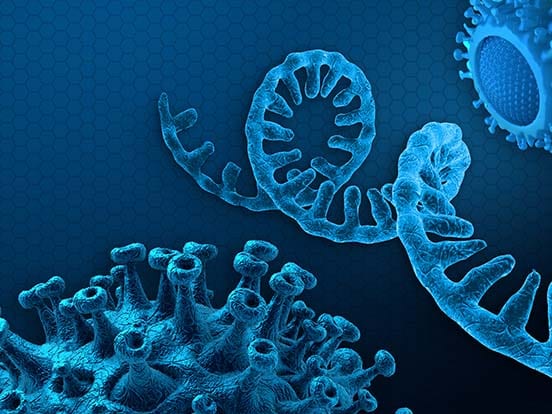 SARS-CoV-2 / COVID-19 Detection Kits
Detect SARS-CoV-2 and antibodies against SARS-CoV-2 with ease
We offer a series of easy-to-use, high quality kits for detection of SARS-CoV-2 and SARS-CoV-2 antibodies in a range of samples. These include coronavirus antibody detection cards perfect for rapid detection, without the need for any instruments. Our SARS-CoV-2 RT-qPCR Kit detects SARS-CoV-2 viral RNA via reverse transcriptase qPCR (RT-qPCR), and we also offer ELISA kits for detecting both SARS-CoV-2 IgG and nucleoprotein IgG antibodies. These tools are ideal for a range of applications including epidemiology studies, SARS-CoV-2 screening for research, and determination of previous SARS-CoV-2 infection. These detection kits are the latest addition to our ever-expanding COVID-19 research portfolio, which also includes inhibitor screening kits, SARS-CoV-2 pseudolentivirus, and a wealth of recombinant proteins.
Features
Rapid, easy-to-use research kits
Highly specific RT-qPCR Kit for SARS-CoV-2 detection
Highly sensitive coronavirus antibody-based ELISA kits and detection cards
Our Products
Contact us if you require bulk quantities of any of these products.
Coronavirus IgM/IgG Antibody Detection Card
The Coronavirus IgM/IgG Antibody Detection Card enables fast, qualitative, in vitro detection of IgM and IgG antibodies against SARS-CoV-2 in human serum, plasma, whole blood, and fingertip blood samples. The detection cards utilize colloidal gold immune-technology to carry out lateral flow immunochromatography, in order to detect SARS-CoV-2 nucleoprotein (N) and spike (S) glycoprotein IgM or IgG antibodies. This kit offers a simple method of detecting antibodies with direct observation – no need to use any instruments!
Benefits
Obtain results in 3-15 mins
High sensitivity and specificity
Direct observation without any instruments
Rapid, easy, and convenient method
Coronavirus Rapid RT-qPCR Detection Kit
The Coronavirus Rapid RT-qPCR Detection Kit detects SARS-CoV-2 in human respiratory samples. It allows the efficient cDNA synthesis and qPCR in a single tube and includes a 2X RT-qPCR Mastermix that contains all the reagents to perform the qPCR. The primers and probes are specific for the ORF1ab and N target, which are recommended by both WHO and US CDC. This kit offers an accurate and quick solution for detecting SARS-CoV-2 by RT-qPCR.
Benefits
Results ready in less than 2 hrs
Compatible with standard RT-qPCR machines (Bio-Rad's CFX96, QuantStudio's 7 Flex system)
Includes a positive control
Highly specific for the RNA-dependent RNA polymerase (RdRP) and nucleocapsid (N), recommended by WHO and US CDC
SARS-CoV-2 Nucleoprotein IgG Antibody ELISA Kit
Nucleoprotein packages the positive strand SARS-CoV-2 RNA genome into a helical ribonucleocapsid (RNP) and plays a fundamental role in virion assembly through its interactions with the viral genome and membrane protein. Our highly sensitive SARS-CoV-2 Nucleoprotein IgG ELISA Kit enables convenient and fast qualitative determination of SARS-CoV-2 Nucleoprotein IgG antibody concentrations in serum and plasma samples.
SARS-CoV-2 IgG ELISA Kit
We offer a SARS-CoV-2 IgG ELISA Kit for a quick, easy, and accurate method of determining recent or previous SARS-CoV-2 infections, without the need to handle live virus samples. This ELISA uses the spike protein S1 subunit to capture anti-SARS-CoV-2 antibodies in diluted plasma or serum samples. Positive control serum containing a recombinant human monoclonal anti-SARS-CoV-2 S1 antibody is included in the kit for validation. This kit is a valuable tool to study the COVID-19 epidemiology, prevalence, and morbidity.