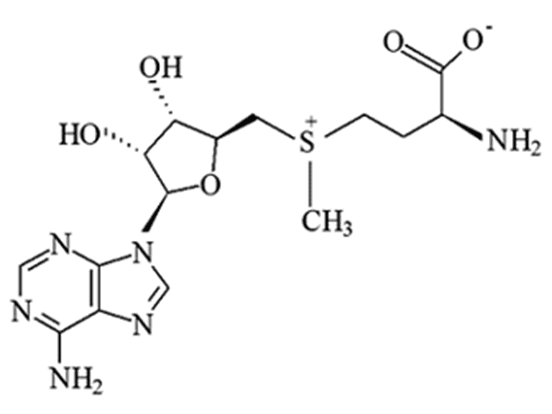 S-Adenosylmethionine and Methylation
S-Adenosylmethionine (also known as SAM-e, SAMe, SAM, AdoMet, or ademetionine) is a critical metabolite found in all living cells. SAM-e plays a central role in cellular biochemistry, acting as a donor of methyl groups in numerous methylation reactions as well as being a precursor molecule to both the aminopropylation and transulfuration pathways.
Methylation
Methylation is involved in nearly every aspect of life. Proper DNA methylation is essential for normal embryonic development, and its dysregulation has been associated with various human diseases. SAM-e is required for cellular growth and repair and is the sole methyl donor for numerous methyl-transfer reactions in DNA, RNA, proteins, lipids, phospholipids, hormones and neurotransmitters. SAM-e provides the methyl group in the production of essential biomolecules including:
Acetyl-L-Carnitine: Neuronutrient and membrane-transporting agent
Epinephrine & adrenaline: Endogenous catecholamfine, stress hormone and neurotransmitter
Phosphatidylcholine: important component of biological membranes
Carnitine: Transporter of fatty acids into mitochondria
Phosphocreatine: ATP reservoir
Melatonin: Circadian rhythm modulator
Aminopropylation
SAM-e also plays an important role in the synthesis of polyamines using the aminopropylation pathway. SAM-e is first decarboxylated and the aminopropyl group transferred to putrescine to generate spermidine and spermine, which are both critical to cell growth, differentiation and stability of DNA and RNA.
Methylthioadenosine (MTA), the by-product of polyamine synthesis, is a powerful analgesic and anti-inflammatory agent. This may be, at least partially, responsible for the clinical benefits observed in the treatment of osteoarthritis, rheumatoid arthritis and fibromyalgia with SAM-e.
Transsulfuration
The transsulfuration pathway begins with S-adenosylhomocysteine (SAH), which is the residual structure following the transfer of a methyl group from SAM-e. Hydrolysis of SAH yields homocysteine, which is converted to cystathionine, cysteine, and finally to glutathione, the hepatocellular antioxidant and life-saving detoxification agent. Since dietary cysteine content is low, and up to 80% of dietary cysteine loses its sulfhydryl groups through the gastrointestinal tract, SAM-e is the main source of cysteine, the building block of glutathione.
Potential Therapeutic Benefits of S-Adenosylmethionine
SAM-e is claimed to be helpful for the following conditions:
Depression
Parkinson's disease
Osteoarthritis symptoms
Liver disease
Intrahepatic cholestasis (of pregnancy especially)
Fibromyalgia
AIDS-related myelopathy
There has be also limited research that has referenced for SAM-e's role in the following conditions:
Attention deficit hyperactivity disorder (ADHD)
Premenstrual syndrome (PMS)
Premenstrual dysphoric disorder (PMDD)
Chronic fatigue syndrome (CFS)
Heart disease
Defective intellectual performance
Multiple sclerosis
Dementia
Alzheimer's disease
Tendonitis
Bursitis
Spinal cord injury
Seizure
Migraine headache
Chronic low back pain
Lead poisoning
Aging
Methylation Index
Since SAM is an intrinsically unstable molecule, the determination of its concentration in various biological fluids and tissues has always been a challenging task. Defined as the ratio of SAM and SAH, methylation index is an effective way to evaluate the status and extent of methylation in humans and other organisms.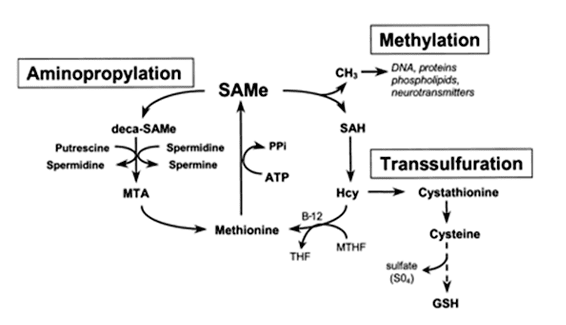 | Name | Datasheet | Packsize | Order |
| --- | --- | --- | --- |
| BSA-aza-SAM a | - | 5 ug | View |
| Bio-12CN-SAH 1a | - | 10 ug | View |
| Bio-12CN-aza-SAM 1a | - | 10 ug | View |
| Bio-12CN-aza-SAM 1b | - | 50 ug | View |
| Bio-6C-SAH 1a | - | 50 ug | View |
| Bio-6C-SAM 1a | - | 50 ug | View |
| Bio-6C-aza-SAM 1a | - | 10 ug | View |
| Bio-6C-aza-SAM 1b | - | 50 ug | View |
| Bio-SAH a | - | 50 ug | View |
| Bio-SAM a | | 50 ug | View |
| Dig-6C-SAH 1a | - | 25 ug | View |
| Horseradish peroxidase (HRP) conjugated anti-SAH monoclonal antibody  Clone 301-3 | - | 50 ul | View |
| Horseradish peroxidase (HRP) conjugated anti-SAM monoclonal antibody  Clone 118-6 | - | 50 ul | View |
| Horseradish peroxidase (HRP) conjugated anti-SAM monoclonal antibody  Clone 84-3 | - | 50 ul | View |
| Mouse monoclonal antibody to S- denosylmethionine Clone 84-3 | | 50 ul | View |
| Mouse monoclonal antibody to S-Adenosylhomocysteine 1a Clone 301-1 | | 50 ug | View |
| Mouse monoclonal antibody to S-Adenosylhomocysteine 2a Clone 301-10 | - | 50 ug | View |
| Mouse monoclonal antibody to S-Adenosylhomocysteine 3a Clone 301-3 | - | 50 ug | View |
| Mouse monoclonal antibody to S-Adenosylmethionine Clone 118-6 | - | 50 ul | View |
| PLL-aza-SAM a | - | 5 ug | View |
| PLL-aza-SAM b | - | 10 ug | View |
| Rabbit polyclonal antibody to S-Adenosylmethionine | | 50 ul | View |
| S- Adenosylmethionine Antibody (Clone # 118-18) | - | 25 ul | View |
| S- Adenosylmethionine Antibody (Clone # 118-6) | - | 25 ul | View |
| S- Adenosylmethionine Antibody (Clone # 84-19) | - | 25 ul | View |
| S- Adenosylmethionine Antibody (Clone # 84-3) | - | 25 ul | View |
| S-adenosylhomocysteine ELISA kit | | 96 reactions | View |
| S-adenosylmethionine ELISA kit | | 96 reactions | View |