What is Oxidative Stress?
Many natural biological processes in our bodies, such as metabolism, result in oxygen-containing molecules splitting into fragments with unpaired electrons, called free radicals, which are natural by-products. The uneven number of electrons allows free radicals (including ROS) to easily react to other molecules; they scavenge the body seeking other electrons until they can become a pair.
Free radicals play a role in several physiological processes such as protein phosphorylation, activation of transcriptional factors, immunity etc. but need to be kept at a low level.
However, environmental stressors (i.e.UV, ionizing radiations, pollutants and heavy metals), xenobiotics, diet and lifestyle contribute greatly to an increase in free radical production in the body.
When free radicals are not kept in balance, they trigger a large chain of oxidation reactions. This is a domino effect of free radicals pulling electrons from a stable molecule, destabilising it, turning that molecule into a free radical and so on. This produces many free radicals which can eventually disrupt and damage the whole cell (Oxidative stress).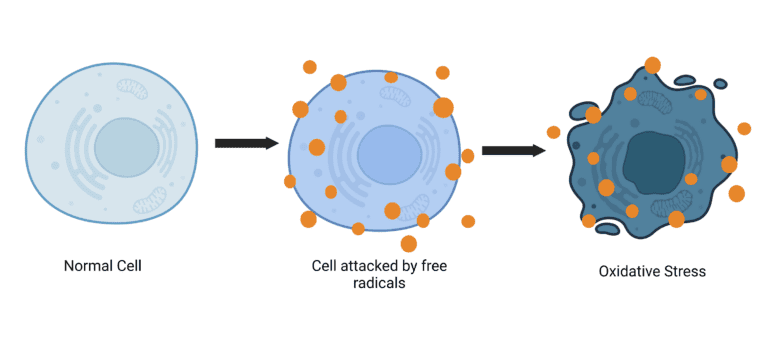 Our body produces molecules in cells called Antioxidants. These act as the body's defense to keep free radicals in check and help protect the body from oxidative stress. Antioxidants can donate an electron to a free radical without making themselves unstable. This causes free radicals to stabilise and become less reactive, preventing damage to cells.
Antioxidant preservatives also play a crucial role in food production by increasing shelf life. Examples of antioxidants include vitamins A, C, and E.
Oxidative stress occurs when there is an imbalance of free radicals and antioxidants (too many free radicals and too few antioxidants).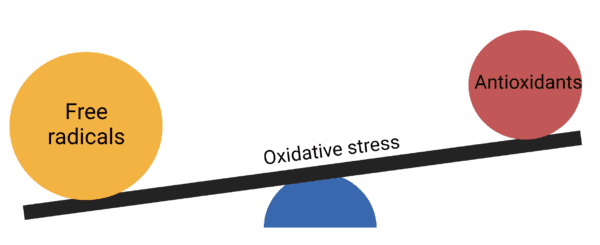 The effect of Oxidative Stress on the body
When there are more free radicals present than can be kept in balance by antioxidants, the free radicals can start doing damage to fatty tissue, DNA and proteins in your body. This damage can lead to a vast number of diseases over time which include:
Cancer
Diabetes
Atherosclerosis
Inflammatory conditions
Heart disease
Neurodegenerative diseases, such as Alzheimer's and Parkinson's
Also contributes to aging (which has been defined as a gradual accumulation of free-radical damage, according to Christopher Wanjek, the Bad Medicine columnist for Live Science)
AMSBIO is offering an extensive range of antibodies and assays for oxidative modification, redox modulators and inflammatory biomarkers as follows: