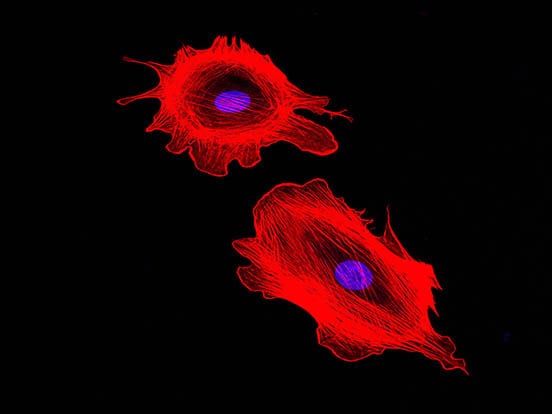 Oris™ Cell Migration Assays
The superior alternative to scratch assays
Migration is an essential property of live cells and plays a crucial role in normal development, the immune response, and disease processes such as inflammation and cancer metastasis. Assays that measure cell migration provide a more detailed understanding of the mechanisms involved in both normal and disease processes and are important for drug and therapeutic discovery efforts.
AMSBIO supplies Oris™ Cell Migration Assays, a range of migration assays which utilize a unique exclusion zone technology to give you superior reproducibility, accuracy and precision in your experiments. By allowing the identification of cell migration inhibitors and cell migration promotors, the Oris™ Cell Migration Assay is a powerful tool to advance studies in drug discovery, wound healing and cancer research.
Features
Compatible with any adherent cell line
Available with tissue culture treated plates, Collagen I coated plates, Fibronectin coated plates, Poly-L-Lysine (PLL) coated plates, Basement Membrane Extract (BME) coated plates or a Tricoated version (tissue culture treated, Collagen I, Fibronectin)
Compatible with plate readers and high-content analyzers
Benefits
Allows you to monitor cells in real time
Significantly reduces handling due to the automation friendly design
Creative design - allows you to use pre-coated assays or apply your own extracellular matrices
Monitor phosphorylation events - perform in-cell westerns during cell migration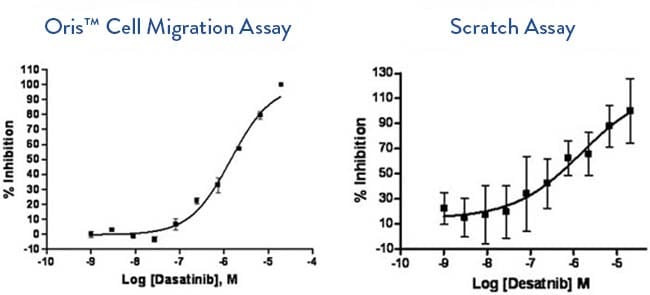 How do Oris™ Cell Migration Assays work?
Cells are seeded around a physical barrier: a silicon stopper. This barrier can remain in place after seeding for any desired length of time, facilitating extended adhesion times for the cells that need it. Following removal of the stoppers, the cells migrate into the detection zone and then be observed using a microscope, digital imaging system or fluorescence plate reader. Oris™ assays are the ideal alternative to scratch assays, reducing variability and providing quantitative cell migration data.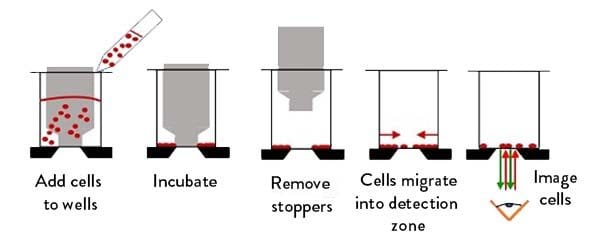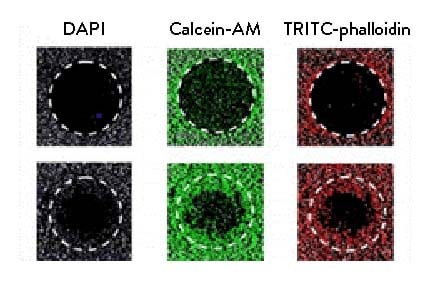 Single plate kits
Five plate kits
Looking for a more flexible solution?
For analysis of fewer than 96 samples per experiment, use the Oris™ FLEX Kit. This kit consists of four empty plates and four packs of 24 stoppers, allowing cost-effective experiments that still enable you to take advantage of the accelerated assay time that small wells offer.
If you wish to apply your own coating for the plates, then choose the Oris™ Universal Cell Migration Assembly Kit. This provides you with one empty plate per pack of 96 stoppers.
*Oris™ is a trademark of Platypus Technologies, LLC.
Frequently Asked Questions