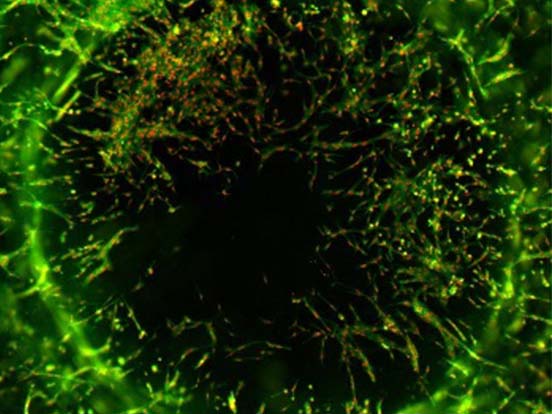 Oris™ Cell Invasion Assays
Measure cell invasion activity in a more physiologically-relevant microenvironment
Oris™ Invasion Assays are simple, quantitative kits which allow for the monitoring of cell invasion and morphological changes in a more physiologically relevant microenvironment. They utilize a unique exclusion zone technology to form a cell-free detection zone in each well suspended in a layer of collagen. These assays enable cell movement through the 3D collagen extracellular matrix, and with no Transwell™ or artificial membrane obscuring visualization of the cells, invasion rates and morphology changes can easily be measured as end-point assays or in real-time.
Benefits
Membrane-free invasion: No Transwell™ or cell culture inserts
Flexible measurement: Monitor invasion in real-time and end-point measurements
Adaptable to any system: Readouts with microscopes, plate readers or high-content instruments
Preserves cell morphology: Easily visualize cells during migration
Oris™ 3D Cell Invasion Assay
In the Oris™ 3D Invasion Assay, silicon stoppers are used to create the central detection zone for cell invasion experiments; cells are suspended in a thick layer of collagen surrounding this zone. Following incubation, the stopper is removed and invading cells move into the detection zone, where they can be easily quantified using a microscope or a plate-reader.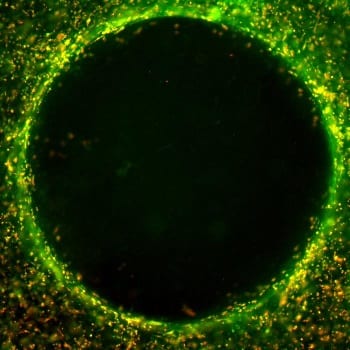 Fig 1. Using the Oris™ 3D Embedded Invasion Assay, cells are suspended in a thick layer of collagen I surrounding a 2-mm circular central cell-free collagen I detection zone (left image). After several days incubation, invading cells move into the detection zone (right image) where they can be unambiguously quantified. Images are false-color composites of the detection zone stained for nuclei (red) and actin (green).
How to use Oris™ 3D Invasion Assay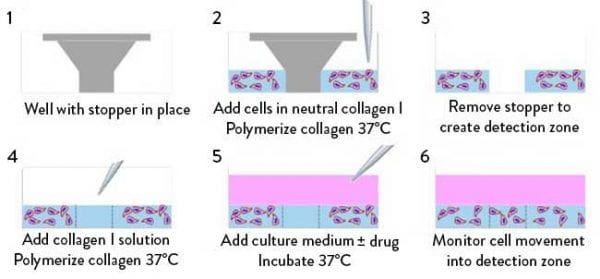 Oris™ Pro Invasion Assays
In Oris™ Pro Invasion Assays, instead of a silicon stopper, cells are seeded around a spot of non-toxic Biocompatible Gel (BCG) that dissolves after media and cells are added to each well.
The use of BCG instead of cell seeding stoppers permits complete access to the assay wells by automated liquid handling equipment at all steps of the assay from start to finish. No manual steps are necessary to add cells to the wells or to remove stoppers. The ability to run completely automated cell migration assays offers the benefits of both cost and time savings. Additionally, the high optical quality microplate provided with the Oris™ Pro assays is specifically designed for High Content Imaging.
How the Oris™ Pro Invasion Assay works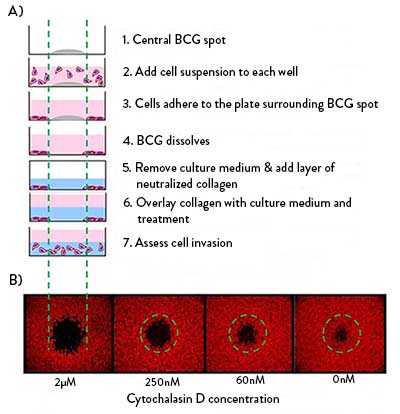 Frequently Asked Questions
*Oris™ is a trademark of Platypus Technologies, LLC.