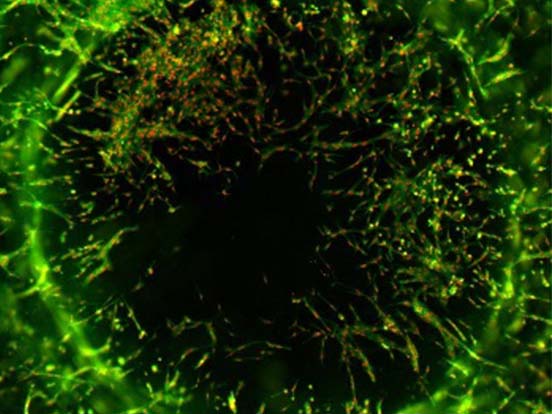 Oris™ Cell Invasion Assays
Measure cell invasion activity in a more physiologically-relevant microenvironment
Oris™ Invasion Assays are simple, quantitative kits which allow for the monitoring of cell invasion and morphological changes in a more physiologically relevant microenvironment. They utilize a unique exclusion zone technology to form a cell-free detection zone in each well suspended in a layer of collagen. These assays enable cell movement through the 3D collagen extracellular matrix, and with no Transwell™ or artificial membrane obscuring visualization of the cells, invasion rates and morphology changes can easily be measured as end-point assays or in real-time.
Benefits
Membrane-free invasion: No Transwell™ or cell culture inserts
Flexible measurement: Monitor invasion in real-time and end-point measurements
Adaptable to any system: Readouts with microscopes, plate readers or high-content instruments
Preserves cell morphology: Easily visualize cells during migration
Oris™ 3D Cell Invasion Assay
In the Oris™ 3D Invasion Assay, silicon stoppers are used to create the central detection zone for cell invasion experiments; cells are suspended in a thick layer of collagen surrounding this zone. Following incubation, the stopper is removed and invading cells move into the detection zone, where they can be easily quantified using a microscope or a plate-reader.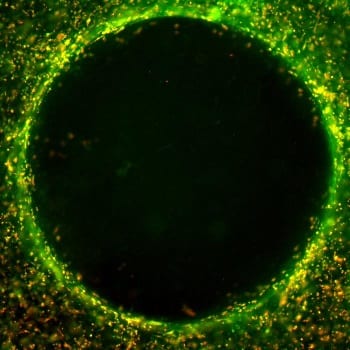 Fig 1. Using the Oris™ 3D Embedded Invasion Assay, cells are suspended in a thick layer of collagen I surrounding a 2-mm circular central cell-free collagen I detection zone (left image). After several days incubation, invading cells move into the detection zone (right image) where they can be unambiguously quantified. Images are false-color composites of the detection zone stained for nuclei (red) and actin (green).
How to use Oris™ 3D Invasion Assay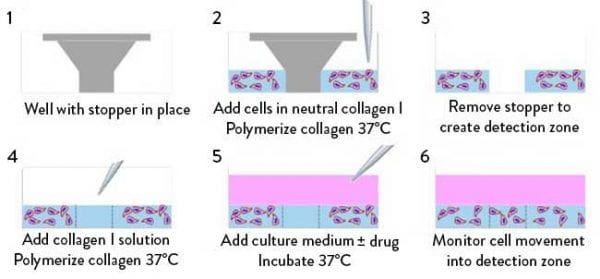 Frequently Asked Questions
*Oris™ is a trademark of Platypus Technologies, LLC.