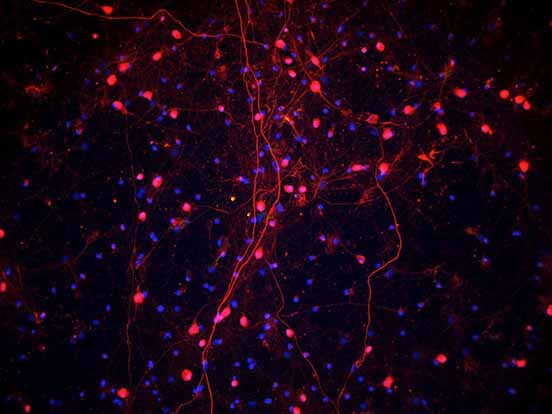 NeuroPure Rat Neuronal Cells
Live ready-to-use neurons
AMSBIO offers NeuroPure Primary Rat Neurons, these are live ready-to-use neurons isolated from micro-surgically dissected regions of Sprague/Dawley rat. These neurons are prepared fresh each week and shipped in a nutrient rich medium that keeps the cells alive for up to 6 days under refrigeration.
Benefits
Ideal for applications including: transfection, pharmacology studies, immunocytochemistry and neuron development studies
Freshly isolated healthy neurons - not frozen
Ready to use - get your primary culture up and running within 1 hour
Pure neuronal cells - 99.9% glial cell free
Guaranteed quality and consistency
Available in seven popular cell types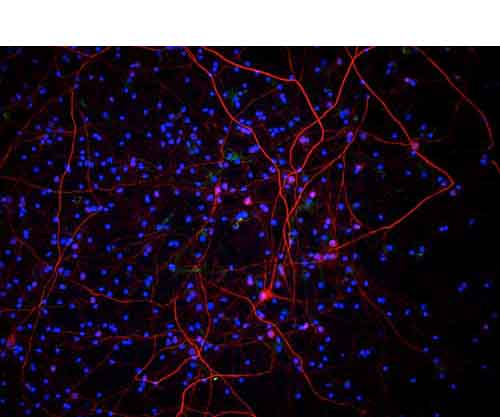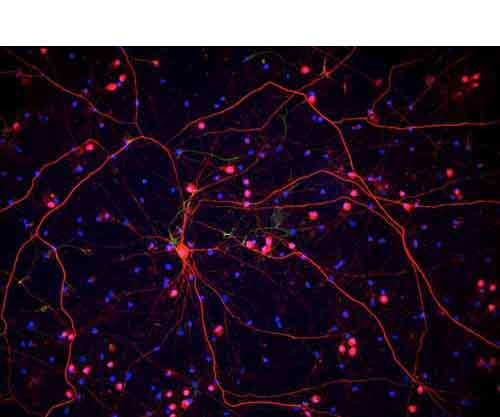 Fig 1. Triple stained NeuroPure rat neurons after 21 days in culture. Neurofilaments (red) were immunostained with rabbit anti-neurofilament antibody and goat anti-rabbit AlexaFluor 568. Glial cells (green) were immunostained with a mouse anti-GFAP antibody AlexaFluor 488. DNA (blue) was stained with Hoechst 33258 (bis-benzamide). Top row: NeuroPure rat hippocampal cells. Bottom row: NeuroPure rat cortical cells.
| Name | Datasheet | Packsize | Order |
| --- | --- | --- | --- |
| NeuroPURE E18 Mouse Hippocampal Astrocytes | - | 1 mouse | View |
| NeuroPURE E18 Mouse Hypothalamus Neurons | | 1 mouse | View |
| NeuroPURE E18 Mouse Midbrain Neurons | - | 1 mouse | View |
| NeuroPURE E18 Mouse Spinal Cord Neurons | - | 1 mouse | View |
| NeuroPURE E18 Mouse Striatal Neurons | - | 1 mouse | View |
| NeuroPURE E18 Primary Midbrain Cells | - | 1 midbrain | View |
| NeuroPURE E18 Primary Rat Hypothalamus Cells | | 1 pair | View |
| NeuroPURE E18 Primary Rat Spinal Cord Cells | - | 1 spinal cord | View |
| NeuroPURE E18 Primary Rat Striatum Cells | - | 1 pair | View |
| NeuroPURE P8 Primary Rat Cerebellar Cells | - | 4 pair | View |
| NeuroPure E18 Mouse Cortical Astrocytes | - | 1 Embryonic Mouse | View |
| NeuroPure E18 Rat Cortical Astrocytes | - | 1 kit | View |
| NeuroPure E18 Rat Hippocampal Astrocytes | - | 1 kit | View |
| NeuroPure E18 Rat Hypothalamus Astrocytes | - | 1 kit | View |
| NeuroPure Frozen E18 Primary Rat Cortical Neurons | - | 1 vial x 10 million cells | View |
| NeuroPure Frozen E18 Primary Rat Cortical Neurons | - | 4 vials x 40 million cells | View |
| NeuroPure Frozen E18 Primary Rat Hippocampal Neurons | | 4 vials x 4 million cells | View |
| NeuroPure Rat Cortical Cells | - | 2 million cells | View |
| NeuroPure Rat Hippocampal Cells | | 1 million cells | View |