MagSi Tools & MagSi Direct Coupling Kits
Magnetic tools for research & development applications
Using magnetic separation in biological applications is becoming increasingly popular. An extremely versatile technique, biomagnetic separation has a range of applications from the isolation of nucleic acids and cells, to protein purification.
Adding to our extensive collection of magnetic separation solutions are MagSi-Tools, a range of surface-activated magnetic beads as well as MagSi-Direct, a revolutionary biomolecule linkage kit.
MagSi-Tools
MagSi-Tools are surface activated magnetic particles for covalent immobilization of proteins (antibodies, enzymes), peptides, nucleic acids or other molecules of interest. The MagSi platform has a broad range of functionalization possibilities such as COOH, NH2, SH, CHO, tosyl, hydrazide, and epoxy. MagSi-Tools products are available with 600nm, 1.0 µm or 3.0 µm mean diameter.  Different surface modifications and size possibilities make each bead uniquely suited to a specific application.
After coupling the molecule of interest to the magnetic particle, the resulting beads can be used in downstream applications such as:
Preparative applications: isolating specific target proteins, antibodies, nucleic acids, cells, viruses etc
Diagnostic applications: detecting specific target proteins, nucleic acids, cells, viruses, etc.
Immobilizing enzymes, thereby enhancing stability and minimizing auto-catalysis. Magnetic collection of the particle/enzyme complex allows for the removal of enzyme from the reaction and its subsequent reuse in a new reaction
MagSi-Direct
Ready-to-use coupling kits
MagSi-Direct enables coupling of the biological molecule of your choice to magnetic beads. The coating of MagSi-Direct acts as a nanoglue, using electron donation from electron-rich groups of the target molecule including –COOH, -CONH, -NH2, -NHR, -NR2, -OH and –SH. As a result, MagSi-Direct allows coupling of a wide variety of medium-large biomolecules, from non-protein molecules to proteins such as antibodies, cell receptor proteins, lectins, peptide aptamers and enzymes. The coating technology has a maximum interaction with large biomolecules.
Because magnetic separation technology is gentle and does not involve harsh chemicals or conditions, MagSi-Direct opens up new avenues for isolating, purifying, or characterizing delicate cells or complexes that interact with a specific ligand.
Benefits
Binding to beads takes only minutes
Forms very strong, stable coordinate bonds with any electron donor on your molecule
Binding orientation is non-specific and random. Within a population of beads, all orientations of your molecule are present and available for interactions with partners
Much lower cost and much more flexible than biotin-streptavidin or antibody-based binding techniques
No cloning or modifications to your molecule required
Avoids exposing partner cells, complexes, or assays to harsh buffers or conditions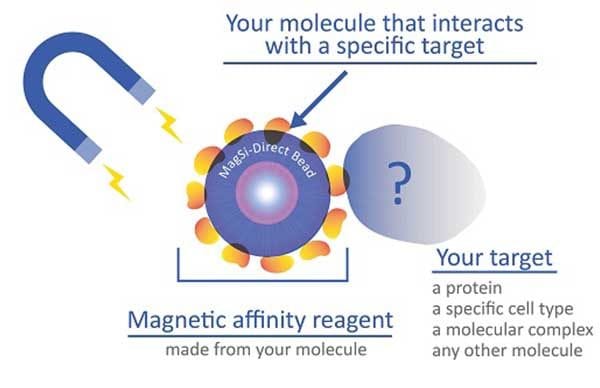 Features
| Feature | MagSi-Direct 1.0 | MagSi-Direct 3.0 |
| --- | --- | --- |
| Diameter of beads | 1.0 μm | 3.0 μm |
| Application | Immunoassays and capture reactions in volumes ≤ 1000 μL | Cell capture applications and capture reactions in high volumes/viscous samples |
| Components | MagSi-Direct 1.0 beads, 10X immobilization buffer, and blocking buffer | MagSi-Direct 3.0 beads, 10X immobilization buffer, and blocking buffer |
| Pack sizes available | Small (2 ml beads), Medium (10 ml beads), Large (100 ml beads) | Small (2 ml beads), Medium (10 ml beads), Large (100 ml beads) |
Magnetize almost any molecule with MagSi-Direct
Lectins
Ligands
Glycans
Haptens
Antigens
Enzymes
Peptides
Aptamers
Cytokines
Antibiotics
Antibodies
Ribozymes
Biomarkers
Viral particles
Bacteriophage
Carbohydrates
Test compounds
Pharmaceuticals
Cellular receptors
Blood components
Potential applications
There are multiple possible applications of MagSi-Direct, both in vitro and in vivo, including:
Stem Cells - Personalized Cell Therapy Research
Use your own cell-specific ligands to isolate cells of interest
Expose cells only to their own natural ligands, which you have "magnetized"
Isolate or concentrate minority cell populations gently and efficiently
Protein Chemistry
Purify delicate proteins or complexes with ease
Simply "magnetize" any natural binding partner and use it as "bait"
Avoid complex chromatographic separations
Flow Cytometry - FACS Cell Sorting
Remove interfering cell populations prior to flow analysis
Just attach your cell-specific ligand to MagSi-Direct beads and use it to pull out the interfering cells with a magnet
Enhance FACS capabilities - add magnetic cell depletion or concentration steps before or after running a sort
Diagnostics Development
Capture or purify ANY analyte that binds to a "magnetizable" partner that you have in hand
Develop quantitative magnetic affinity assays
MagSi-Direct 1.0
With a mean diameter of 1.0 µm, MagSi-Direct 1.0 is especially suitable for immunoassays and capture reactions in volumes ≤ 1000µL. Includes ready-to-use MagSi-Direct 1.0 beads, 10X Immobilization Buffer and Blocking Buffer
MagSi-Direct 3.0
With a mean diameter of 3.0 µm, MagSi-Direct is especially suitable for cell capture applications and capture reactions in high volumes or viscous samples. Includes ready-to-use MagSi-Direct 3.0 beads, 10X Immobilization Buffer and Blocking Buffer