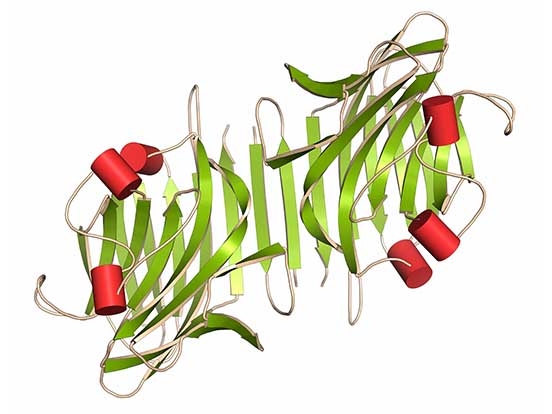 Lectins
Functional analysis of sugar chains
Lectins are proteins which can recognise and bind to specific glycan structures displayed on biomolecules. More than 50% of proteins are glycosylated, meaning lectins have a large role in nature: by interacting with glycans and glycosylated biomolecules, they can mediate a broad range of biological processes.
The ability of lectins to bind to specific glycan structures in situ makes them valuable tools that enable simple and fast detection and analysis of intact glycosylated biomolecules. Traditional glycoanalytical methods are often highly complex, labour intensive, and time consuming.
Our Products
AMSBIO are proud to be involved in the fast growing field of glycoproteomics. Usually glycoproteins are at low levels in biological samples, meaning there is a large need for suitable tools to effectively isolate them for their identification and analysis. In addition to this, there are many diseases such as cancer and rheumatoid arthritis which are associated with changes in glycosylation patterns, which means that tools capable of sensitive detection of such changes would have significant potential in the field of diagnostics.
We also offer a selection of recombinant prokaryotic lectins
Gal/GalNAc Specific