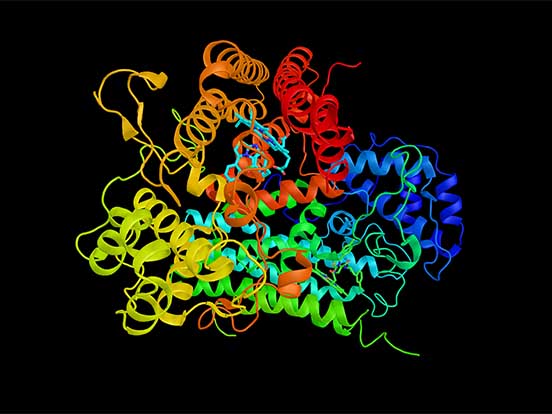 IDO Immune Pathway
Proteins, cell lines and assay kits for your immunology research
Indoleamine 2,3 dioxygenase (IDO) is an intracellular enzyme which catalyzes the breakdown of tryptophan in the kynurenine pathway. Expressed by antigen presenting cells, IDO plays important immune suppression roles in both innate and adaptive immune responses.
AMSBIO offers a wide range of products for your IDO pathway research including IDO1, IDO2, and TDO proteins and assays, IDO inhibitors, and a screening service.
Features
Why is the IDO pathway important?
The IDO pathway prevents the body's immune system from over-responding to threats, and therefore causing unnecessary damage to its healthy cells.
How does it work?
IDO exhibits its immune-dampening effect by suppressing the response of macrophages and effector T cells. The exact mechanism of this immunosuppression is unclear, but it likely involves tryptophan starvation of sensitive T-cells and/or the build-up of toxic metabolites (kynurenines) from tryptophan metabolism, leading to cell cycle arrest and death of effector T cells within the surrounding environment. IDO expression also directly activates the regulatory T cells that actively suppress the immune response, which amplifies the suppressive effect.
IDO and Cancer
Immune evasion is one of the identifying hallmarks of cancer, and researchers are trying to identify the complex mechanisms that enable cancer cells to evade the host's immune system.
Cancer cells use the IDO pathway to suppress the host's immune response in order to facilitate survival, growth, invasion, and metastasis of malignant cells. The IDO pathway is active in many tumors, providing a direct defense against T cell attack, allowing the tumor cells to evade destruction by the immune system.
Targeting the IDO pathway has been recognized as a key strategy in the development of cancer therapies, with various IDO inhibitors in pre-clinical and clinical stages.
Our Products
| Name | Datasheet | Packsize | Order |
| --- | --- | --- | --- |
| Human IDO1 Cell-Based Assay Kit | - | 100 reactions | View |
| Human IDO1 Fluorogenic Inhibitor Screening Assay Kit (384) | - | 384 reactions | View |
| Human IDO1 Fluorogenic Inhibitor Screening Assay Kit | - | 96 reactions | View |
| Human IDO1 Inhibitor Screening Assay Kit (384) | - | 384 reactions | View |
| Human IDO1 Inhibitor Screening Assay Kit | - | 96 reactions | View |
| Human IDO2 Inhibitor Screening Assay Kit | - | 96 reactions | View |
| Human TDO Cell-Based Assay Kit | | 100 reactions | View |
| Human TDO Fluorogenic Inhibitor Screening Assay Kit (384) | - | 384 reactions | View |
| Human TDO Fluorogenic Inhibitor Screening Assay Kit | - | 96 reactions | View |
| Human TDO Inhibitor Screening Assay Kit (384) | - | 384 reactions | View |
| Human TDO Inhibitor Screening Assay Kit | - | 96 reactions | View |
| IDO1 Inhibitor Mechanism of Action Assay Kit | - | 50 reactions | View |
| Mouse IDO1 Inhibitor Screening Assay Kit | - | 96 reactions | View |
| Mouse IDO2 Inhibitor Screening Assay Kit | - | 96 reactions | View |