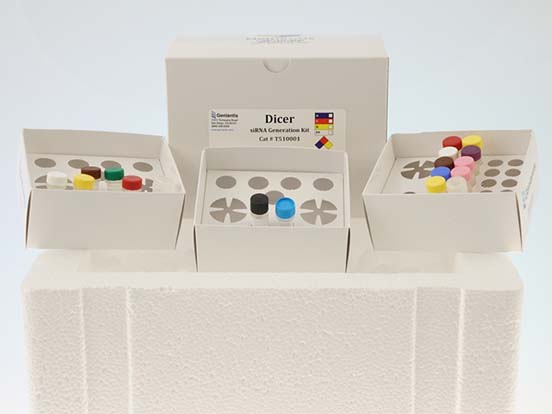 Dicer siRNA Generation Kit
Easily generate functional siRNAs
The Dicer siRNA Generation Kit allows easy and cost-effective generation of a large number of small interfering RNAs (siRNAs) from full-length target genes. The kit mimics the natural RNA interference process by using recombinant human dicer enzyme to cleave in vitro transcribed dsRNA templates into a pool of 22bp siRNAs.
Features
Containing everything required for preparing double stranded RNA, RNA cleavage, siRNA cleanup and transfection, the Dicer siRNA Generation Kit is the obvious choice for the generation of siRNAs. This kit contains sufficient reagents for generating siRNAs from up to 5 different genes and for 50 transfections in 24-well plates.
Easily and economically generates functional siRNAs
No guesswork: a mixture of siRNAs has a better chance of success than a single siRNA design
No wasted time and money due to failed siRNA designs
More regions of the genes can be screened for silencing
Provided with GeneSilencer® siRNA Transfection Reagent
Name
Packsize
Order
We couldn't find any records.
How does the Dicer siRNA Generation Kit work?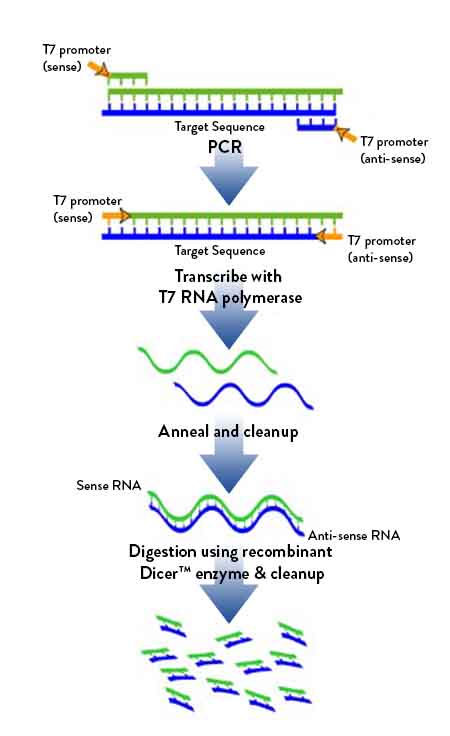 Applications
Citations
Recombinant Dicer efficiently converts large dsRNAs into siRNAs suitable for gene silencing
Myers, J.W., Jones, J.T., Meyer, T., & Ferrell, J.E. Jr; Nature Biotechnology. 2003, 21(3), 324-328
Functional anatomy of siRNAs for mediating efficient RNAi in Drosophila melanogaster embryo lysate
Elbashir, S.M., Martinez, J., Patkaniowska, A., Lendeckel, W., & Tuschi, T; EMBO J. 2001, 20(23), 6877-88
Specific inhibition of gene expression by small double-stranded RNAs in invertebrate and vertebrate systems
Caplen, N.J., Parrish, S., Imani, F., Fire, A., & Morgan R.A; Proc Natl Acad Sci USA. 2001, 98(17), 9742-7
RNA interference
Sharp, P.A; Genes Dev. 2001, 15(5), 485-90