Christmas Special Offer
This festive season, AMSBIO is excited to present an exclusive promotion on custom phospho-specific antibodies! You can save on single projects, and for even greater value, take advantage of our buy 2 get 1 free deal to save 33% on your order. To get these incredible discounts, simply fill out the request form on this page. To qualify for this promotion, please ensure you have received a quotation from us before the offer closes on Thursday, December 21st, 2023.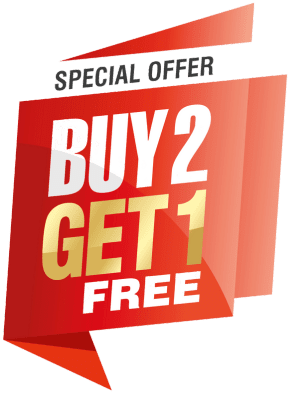 Deliverables
2-3 mg each of phospho and non-phospho peptide
0.5-1ml of pre-immune sera and antisera per rabbit
Project report with both ELISA and dot blot data
3-5 mg of affinity purified non-phospho-specific antibody
2-5 mg of affinity purified phospho-specific antibody
Service includes
Immunization of 2 Japanese white rabbits
2x (0.5-1ml) pre-immunization samples
2x (0.5-1ml) post-immunization samples
Synthesis of peptides and KLH conjugation
Procedure
The immunogen is diluted to 0.5 ml with sterile saline and combined with 0.5 ml of the appropriate adjuvant.
The antigen and adjuvant are mixed thoroughly to form a stable emulsion that is injected beneath the skin of the rabbit (subcutaneously) in the area around the shoulders and intra-muscularly into the large muscle of the rear legs (that is about 1/4 of the antigen being used in each area).
This provides enhanced immune response from the sustained presentation of the immunogen.
Bleeds
Blood is collected from the central ear artery with a 19-gauge needle and allowed to clot and retract at 37°C for 1h followed by 12h at 4°C. The clotted blood is then decanted and clarified by centrifugation at 10,000 RPM for 10 minutes.
Adjuvant: Complete Freund's Adjuvant (CFA) initially, followed by Incomplete Freund's Adjuvant (IFA) for all subsequent injections.
Immunogen - KLH conjugated phospho-peptide. 250µg immunogen is used for each immunization.
Schedule
Week 0 : Bleed 3-5 ml (yields 1-2 ml pre-immune serum). Immunize with 500 µg / rabbit antigen in CFA.
Week 2 : Immunize with 250 µg antigen / rabbit in IFA.
Week 5 : Immunize with 250 µg antigen / rabbit in IFA.
Week 6 : Test bleed 1-2 ml. ELISA and Western blotting (WB) on appropriate cells / tissue. If the ELISA OD is < 2.0 at a serum dilution of 1:1000, and OD <1.0 at a serum dilution of 1:3000, the antibody titer is considered low, and we will immunize again with 250 µg antigen / rabbit in CFA.
Week 7 : 1st Production bleed 10-15 ml if test was positive. ELISA and WB test again if previous tests were negative.
Week 8 : 2nd Production bleed 10-15 ml. Immunize with 250 µg antigen/rabbit in IFA. ELISA and WB test again if previous tests were negative. The continuation of the project needs to be discussed if negative
Week 9 : 3rd Production bleed 10-15 ml.
Week 10 : 4th Production bleed 10-15 ml. Immunize with 200 µg antigen / rabbit in PBS
Week 11 : Terminating bleed 60 -100 ml / rabbit. Protein G purification of bleeds. Average yield of purified Ig fraction is 80 -100 mg.
Peptide affinity purifications (diluted serum through non-phospho-peptide first and flow-through phospho-peptide column). The yield can differ significantly between antibodies.
Final ELISA, Dot Blot and WB (if applicable) QC test.
Dot Blot Showing Phosoho-Specificity of Phospho Antibody Against Synthetic Phospho-Peptide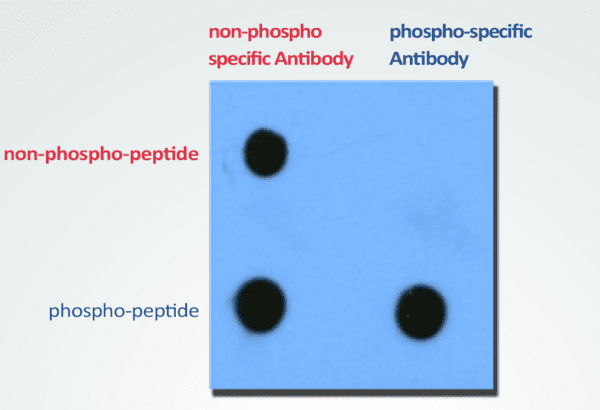 Notes
The rabbits can be maintained on a ten-week cycle of immunizations and bleeds as required by the project. The results of testing will determine whether the program should be continued, modified, or terminated. Extra bleeds can be taken upon customer's requirement of extended project with extra charge.
Protocols are subject to change.
Terms and conditions
This promotion is valid from November 8th to December 21st, 2033.
To participate, customers must submit a quote request using the 'Phospho Specific Antibodies Special Offer Request Form' located at the top of this webpage or accessible here.
To qualify for the discounts, customers must receive a quote from AMSBIO before December 21st, 2033.
AMSBIO reserves the right to modify or terminate the promotion at its discretion without prior notice.
For any inquiries or clarifications regarding this promotion, please contact [email protected].