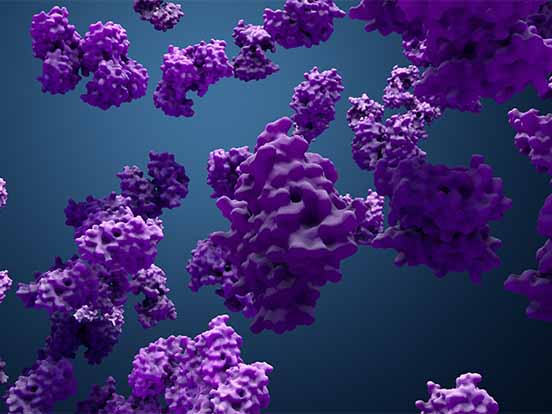 Biotinylated Proteins
Bring pre-labeled biotinylated proteins directly to your bench
Our exclusive biotinylated protein collection is specially designed to simplify your research. These biotin-labeled proteins demonstrate superb bioactivity and high detection sensitivity. These features make them uniquely suitable for ELISA, Surface Plasmon resonance, FACS analysis, dot blot, Western blot, and other relevant assays.
Features
Derived from human cells (HEK293)
Authentic post-translational modification and protein conformation
Superb bioactivity
High detection sensitivity
Custom protein generation service available
Low batch to batch variation
Product Series
Our biotinylated protein collection includes two unique and complimentary product series, the PrecisionAvi series built upon the Avitag™ technology, and the UltraLys series produced using a unique chemical labeling method.
PrecisionAvi Series
An exclusive collection of ready-to-use Avitag™ biotinylated proteins
The products in this series are exclusively produced using the Avitag™ technology. A unique 15 amino acid peptide, the Avi tag, is introduced into the recombinant protein during expression vector construction. The single lysine residue in the Avi tag is enzymatically biotinylated by the E.coli biotin ligase BirA.
This single-point enzymatic labeling technique brings many advantages for commonly used binding assays. The biotinylation happens on the lysine residue of Avi tag, and therefore does NOT interfere with the target protein's natural binding activities. In addition, when immobilized on an avidin-coated surface, the protein orientation is uniform because the position of the Avi tag in the protein is precisely controlled.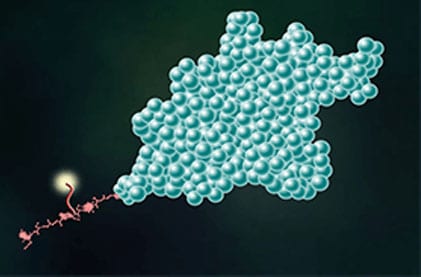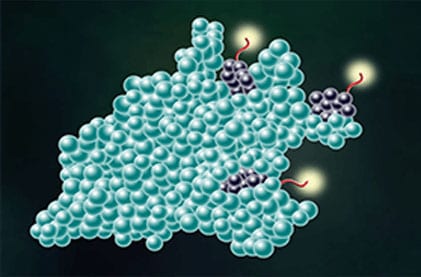 UltraLys Series
A unique series of chemically labeled biotinylated proteins with ultra-sensitivity
The products in this series are produced using a unique chemical labeling approach. The primary amines in the side chains of lysine residues and the N-terminus of protein are conjugated with biotins.
Chemical labeling usually results in multiple biotin attachments on a single protein molecule, which could potentially lead to higher detection sensitivity.
Protein Characterization
High Quality Authentic Human Proteins
The production of our recombinant proteins including the biotinylated proteins is carried out using the HEKMax® expression platform. As expression hosts, human HEK293 cells have a variety of advantages compared to other cell types as summarized in the table below. Most importantly, the proteins retain their authentic post-translational processing, which often translates into high bioactivity and stability.
| Expression Systems | Folding | Phosphorylation | Proteolytic Processing | Glycosylation |
| --- | --- | --- | --- | --- |
| E.Coli | + | N/A | N/A | N/A |
| Insect Cell | ++ | ++ | + | Poor |
| Plant Cell | +++ | ++ | ++ | Poor |
| CHO | ++++ | +++ | +++ | Non-human like |
| Human Cell | +++++ | +++++ | +++++ | Human authentic |
High Bioactivity & Detection Sensitivity
The bioactivity of biotinylated proteins is determined both by the structure of the protein itself, and by the way in which biotinylation is performed. Multiple options of tags and biotinylation methods are tested for every single protein and the products evaluated in a variety of binding assays. Only those with the best performance are selected for production.
Every protein is tested and the products evaluated in a variety of binding assays. Only those with the best performance are selected for production. Below is an example of these evaluation experiments
Our biotinylated proteins demonstrate superb detection sensitivities. As seen below, when used in a functional ELISA, the biotinylated VEGF165 can bind to immobilized rhVEGFR2 with a EC50 of 0.5-5 ng/mL.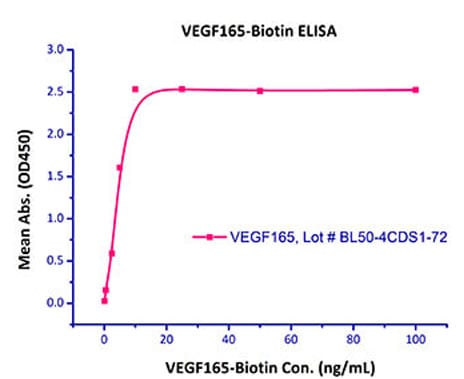 Low Batch-to-Batch Variation
Our collection of biotinylated proteins undergo regular and rigorous quality testing to ensure a consistent performance. Newly produced products are subjected to side-by-side comparison with internal standard in a variety of assays and only those within an acceptable margin are allowed to be released.